February 14, 2021
Post
Welcome To Whistler!
It's tremendous, it's impressively epic and it's incredibly famous.  Consistently voted the best ski resort in North America by Conde Nast Traveller, Whistler in Canada has managed to surpass all our expectations.  With a huge annual snowfall of about 12 metres and mild coastal temperatures, the two mountains of Whistler and Blackcomb have great appeal to skiing enthusiasts of all ages and abilities.  Here is our Family Travel Guide To Whistler.
---
The Story
The mountain organisations of Whistler and Blackcomb successfully merged in 1997.  This resulted in forming one of the largest resorts in the world.  The entire area boasts over 200 marked runs, 8,171 acres of ski-able terrain, 3 glaciers, 16 alpine bowls and 37 ski lifts.  If that isn't enough, there are some incredible educational experiences to be had while in Whistler.  You can enjoy glacier exploration, dog sledding, snowmobile safaris, ice cave expeditions to the Pemberton Ice Cap and many others.  In addition to this, the PEAK 2 PEAK gondola which opened in 2008, offers an 11 minute ride between the two mountains stretching a total of 1.88 miles.  This gondola offers heart-fluttering views and we highly recommend it for non-skiers as well.
Whistler Village has managed to retain its charm as a small village.  This is quite a feat considering it's the largest ski area in North America.  The heart of the village is pedestrian-only and is located at the base of Whistler and Blackcomb mountains.  There are charming shops, restaurants, bars and a good selection of accommodation which makes it a great place to chill out and enjoy the vibrant apres-ski scene.  
---
Our First
On our first trip to Whistler we were privileged to experience spring skiing at its best.  The temperatures were rising and the wildlife was awakening from its winter slumber including bears!  There is nothing quite like watching the first flight of a butterfly after its long winter nap or the gentle trickling of melting winter snow covering the surrounding pine forests. 
Whether it's Whistler's jaw-dropping natural beauty, diverse culture or tasty food (trust me you have to try the poutine, a gorgeous local dish made of French fries smothered in cheese and gravy) you can't go wrong no matter what activities you choose to pursue.  Read through our Family Travel Guide To Whistler for some ideas.
Check out our 20 Photos To Inspire A Visit To Whistler to get you in the mood!
---
Best Time To Go
Winter
There is no best time to visit Whistler as each season provides a wonderfully unique perspective.  Phenomenal powder skiing and long wide runs make Whistler a top choice to visit during the winter months December through February.  Throw in some crackling log fires, twinkling trees, carollers and even Santa himself and you have a very special Christmas experience.
Spring
Spring is a magical time to visit when the wilderness and all its inhabitants are just awakening.  Expect glorious sunny days spending mornings skiing in quality snow and the afternoons poolside as an ideal apres-ski activity, but keep your eyes open for the local bears which have been known to come wandering into town!
Summer
For a completely different perspective on Whistler, visiting in the summer months is a must.  A mountain bikers' paradise, a vast area of expertly-crafted trails provide world class biking terrain.  Soak up the stunning views with some alpine hiking or try North America's longest zip-line spanning over 2km .  With the summer months of June through August being the busiest season of the year, you'll need to book well in advance.
Autumn
Autumn is shoulder season and many believe this is the best time to visit Whistler.  Benefits include incredible weather with less crowding.  The temptation to have the mountains to yourself is a strong draw but be sure to get there before the first snowfall in November.
There is so much to do in Whistler no matter the season so you really can't go wrong!  We have it all covered here in our Family Travel Guide To Whistler.
---
Travel Basics
LANGUAGE: English is commonly spoken throughout the Whistler area.
CURRENCY:  Canadian Dollar. 
CREDIT CARDS & ATMS: ATMs are widely available and credit cards are accepted in nearly all hotels and restaurants.
Carrying some cash while travelling is always wise for small purchases or emergencies. 
TIPPING:  Tipping is standard practice with restaurant staff expecting 15-20% and taxis 10-15% of the fare.  Hotel room cleaners generally take from $2 per day and hotel bellhops from $1-$2 per bag.
FAMILY SAFETY: Canada is deemed a very safe country to travel, particularly with children.  Most dangers come from wildlife encounters so constant vigilance is needed when spending time in the great outdoors.  If camping or travelling during warmer seasons it may be advisable to learn about bear safety.
---
Educational Opportunities
There is a vast range of educational opportunities available.  We have highlighted the ones that really stand out from the crowd in our Family Travel Guide To Whistler.
EARTH SCIENCE
Countless opportunities exist for children to learn about various branches of Earth Science in and around the Whistler area.  
The Britannia Mine Museum provides an excellent introduction to GEOLOGY.  Read about our visit to the museum here.  Children can pan for gold and ride mine cars deep inside the old mines.  There are also numerous options to learn about GEOGRAPHY riding on the Peak 2 Peak Gondola or a hair raising walk across the new Cloudraker Skybridge.  Learn about GLACIOLOGY through a Heli Glacier Experience where your children helicopter over 12,000 year old glaciers.  Read about our Heli Glacier Experience experience here.  Or go on an Ice Cave Adventure to explore ice formations deep inside the Pemberton Ice Cap. Read about our experience here.
NATURE
Exploring the Canadian wilderness is an adventure like no other.  It is a perfect opportunity to learn about the surrounding trees and animals that live around the area including bears!  During the winter months, Dog Sledding and Snowmobile Safaris bring children closer to nature while during the summer hiking and camping gives them the ultimate hands-on experience.
Read more about our Dog Sledding Adventure and Snowmobile Safari
to see what it's really like!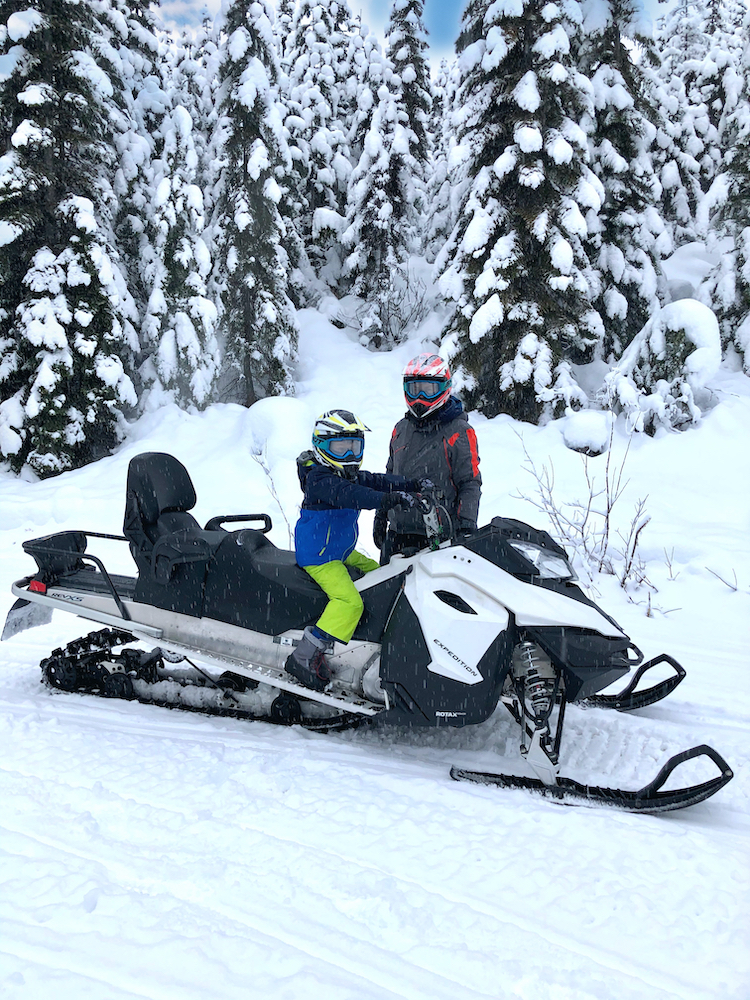 SPORT
Skiing and snowboarding dominate the area during the winter months.  However, there are many other sporting options for children depending on age.  Give them a bucket list experience to learn bobsleigh, luge or public skeleton at the world class Whistler Sliding Centre with lessons available regularly throughout the winter season. During summer months Whistler turns into a mountain bike mecca which dominates the mountains surrounding Whistler.  There are lessons and camps available for all ages at Whistler Bike Park.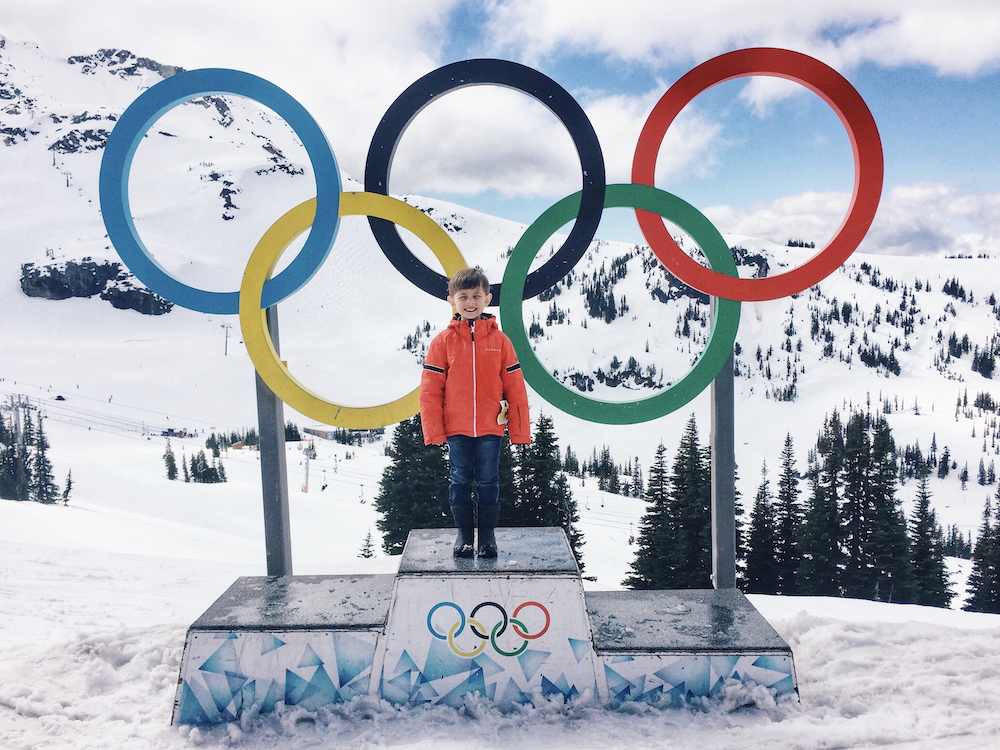 ---
Skiing And Snowboarding
Our Family Travel Guide To Whistler will help you learn what to expect while skiing and snowboarding with the family.
Whistler Kids
Whistler Kids is consistently rated the best ski school for children in the world.  It offers every level of ski and snowboard tuition for children 3 -12 years of age.  Whistler Kids use the Flaik GPS system to pinpoint a child's location at any time so you don't have to worry about them getting lost.  The Children's Learning Centre (CLC) on Whistler Mountain offers a large skills area, a beginner learning zone, as well as an indoor play area.  Adventure camps run weekly Monday to Friday and the children have the same instructor all week and are placed in small groups with a maximum of 6, ensuring a large amount of personal attention which ensures rapid progression.
Our First Experience
There are many features that give Whistler Kids its top ranking.  All instructors are English speaking, recruitment is highly selective to ensure that only the most enthusiastic and engaging ones teach the children's classes, many of whom are professional school teachers.  Whistler Blackcomb adopts a rigorous review process, of all their instructors, resulting in a consistency across the whole team. 
Our son has had 5 different instructors over the years,  each as skilled as the last.  The main difference we find between North American and European tuition is that in Europe instruction is based on continuous learning and skiing whereas in Whistler the priority is entirely on having fun whether you are skiing or not.  Our son's first skiing experience with Whistler Kids was so warm, enjoyable and positive, consisting of short skiing sessions, broken up with building snow castles, snowball fights, and even art and crafts.  I believe the true testament is when your child can't wait to go back the following day.
More Thank Just Skiing
Whistler Blackcomb provides many other opportunities for kids to socialise and burn off some energy in the form of playgrounds.  There is the Tree Fort on Whistler Mountain as well as the Magic Castle on Blackcomb Mountain both of which provide ample play areas and resemble a winter wonderland for children.  Older teens can take advantage of the Teen Adventure Camps and the Ride Tribe Programme which accepts children from 13 – 18 years of age.
Adult Options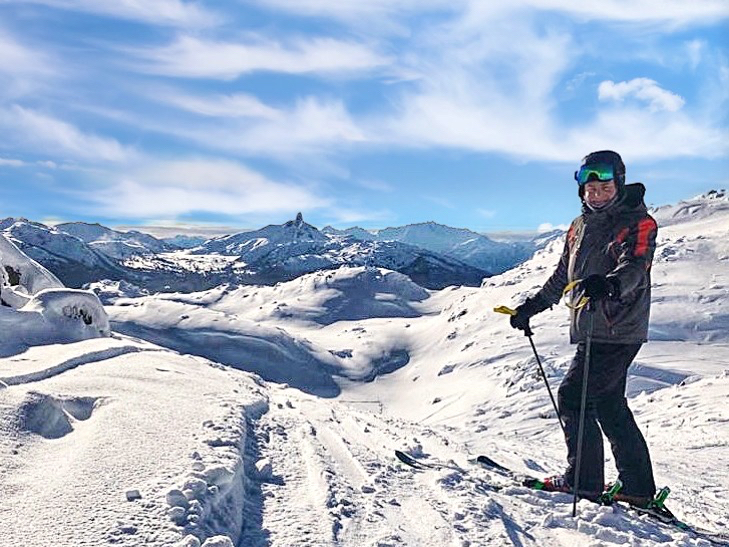 With all this available for children, it's very easy to forget the amazing skiing on offer for adults.  Adult lessons are available at all levels, from complete novice to expert, including many heli-skiing opportunities for the more daring, both on a private and group basis.  A unique offering in Whistler are their "MAX4" groups, which are perfect for couples or unaccompanied adults who want to enjoy the social aspect of skiing with like-minded people.  It operates on a daily basis, and the day begins with an informal assessment of everyone's skiing by a team of instructors who then allocate the groups, which have a maximum size of 4, to ensure the ability levels are very similar.  The group then effectively enjoy the day with a private instructor who will guide or instruct as required.
Why not take the opportunity to ski with an Olympian for a truly unique perspective?  Book yourself a session with the snow school's most exclusive program and get inside the mind of an Olympian while skiing some of the finest slopes Whistler Blackcomb has to offer.  Hear their incredible stories, follow in their tracks and learn some techniques from the champions.   
It's the professionalism and consistency of the instruction in Whistler Blackcomb that surpasses most ski resorts in the world.  They are widely acclaimed to run the best instructor training program in Canada, and all instructors have to pass various levels demonstrating technique and communication and are assessed and coached regularly thereafter.
---
Where To Stay
There is a vast offering of hotels in different price ranges throughout the village and nearby. 
Four Seasons Resort Whistler
The Four Seasons Resort Whistler is an exceptional hotel with even more exceptional facilities and a personal favourite.  Everything is effortless here from the on-site ski rental shop to the dedicated ski concierge located at the base of Blackcomb Mountain.  Nothing here is too much trouble and the faultless service the Four Seasons chain is known for is evident here in spades. The hotel provides a very warm, intimate environment much akin to a home away from home.  Don't miss the adorable tipsy snowman apres-ski tipple, with non-alcoholic versions available for children.  Located about a 5 minute walk from the base of Blackcomb Mountain.
Fairmont Chateau Whistler
This grand dame located at the base of Blackcomb Mountain, the Fairmont Chateau Whistler offers superb facilities and service befitting that of a Fairmont hotel.  Its large scale means there is no shortage of facilities or services on offer.  A ski concierge tent located at the base of Blackcomb Mountain makes managing ski gear effortless as it is whisked away and returned the following day, dry and ready to go.
Sundial Boutique Hotel
You can't get any better location than being situated steps from the base of Whistler Mountain and in the heart of Whistler Village.  Step outside the door and you are in the thick of the action.  The Sundial Boutique Hotel offers full size luxury suites with full gourmet kitchens.  There are three on-site restaurants and a laundry room available exclusively to guests of the hotel.  Laundry pick up and dry cleaning can also be arranged.
Summit Lodge Boutique Hotel
An award winning quirky but charming boutique hotel located just steps away from the iconic Olympic Plaza.  The Summit Lodge Boutique Hotel regularly occupies the top spot on Trip Advisor as Whistler's Number One Traveler-Rated Hotel and regularly receives Trip Advisor's "Certificate of Excellence".  Offering lovely service with personal touches sets it apart from the rest.  Enjoy a wine and cheese afternoon or beer and cider tasting as well as chocolate treats for the children.  They go the extra mile to ensure guest's comfort and happiness.
Nita Lake Lodge
Soak in the dreamy lake views at Nita Lake Lodge, a boutique retreat nestled on the shores of a stunning glacier-fed lake.  Featuring beautiful rooms with soothing decor, fine dining and an on-site spa, this gem of a hotel is only 500m from the base of Whistler Mountain.  Located in charming Creekside Village.
Pan Pacific Whistler Village Centre Hotel
The centrally located Pan Pacific Whistler Village Centre Hotel offers lovely contemporary, all-suite accommodations with full kitchens and fireplaces as well as balconies to enjoy the views and fresh mountain air.  Situated only 290 meters from the Excalibur Gondola at the base of Whistler Mountain, this hotel offers all the luxuries and convenience a guest needs with slope-side valet ski storage at your fingertips.
Pan Pacific Whistler Mountainside
Offering lodge-style ambience, the Pan Pacific Whistler Mountainside all suite hotel with full kitchens is ideally located right in the village and steps away from Whistler and Blackcomb Mountains.  It offers easy mountain access with valet ski and bike storage as well as an outdoor heated pool.
There is also the Westin Resort and Spa and the Hilton Whistler Resort and Spa as reliable options as well as a multitude of comfortable and convenient Air B'n'Bs available both inside the village and just on the outskirts.  A benefit of visiting a large resort area such as Whistler Blackcomb is the huge choice of accommodation options suitable for all budgets and requirements.
---
Where To Eat
Family Dining
Being the largest ski resort in North America there's a huge selection of restaurants from pizzas to fine cuisine.  Our Family Travel Guide To Whistler points out some of our personal family favourites. 
21 Steps – modern Canadian fare with great second floor views of Whistler Village
Alta Bistro – Modern French bistro cuisine
Creekbread – Fabulous artisan pizzas.  Lines are long but worth the wait.  Cannot reserve but here is a tip … you can call 20 minutes before arriving and they will add you to the wait list before you even arrive.
La Bocca – delicious Italian
Mongolie Grill – Entertaining and delicious stir-fry creations made before your eyes
Nagomi Sushi – Japanese food with sushi and sake options
Pizzeria Antico – Homemade Neopolitan pizza and amazing pasta dishes
Portobello – smokehouse-inspired cuisine in a casual setting
Sidecut Steak Bar at Four Seasons – Exquisite steaks in a relaxing atmosphere
Teppan Village – traditional Japanese fare
Trattoria di Umberto – tantalising Italian fare 
Wildflower Restaurant – Chateau Fairmont with BC regional cuisine
Earls – American sports diner
Christines on Blackcomb Mountain – dining with a view serving the best poutine ever!
We also recommend Crepe Montagne for a variety of sweet and savoury crepes.  Don't forget about Cow's Creamery for the creamiest ice cream.  Our children's personal favourite is Rocky Mountain Chocolate Factory for a special apres-ski chocolate treat.  Willy Wonka himself would approve of the exotic coated marshmallows, cookies dripping with chocolate, chocolate-dipped apples and the multitude of mouthwatering sweets.  
Adult Dining
Treat yourself and hire a babysitter from Babysitting Whistler to enjoy an adult only evening.  We have personally used the services of Babysitting Whistler and can vouch for their excellent team of nannies and babysitters which we could not imagine doing without when visiting Whistler!
Araxi – culinary cornerstone in the heart of the village.
Bearfoot Bistro – elegant dining with dazzling modern Canadian haute cuisine 
Red Door Bistro – Cozy candlelit bistro with superb food and wines.  A local favourite so book well in advance.
Rimrock Cafe – One of Whistler's top fine dining restaurants.  Third position for Best Fine Dining in Canada from Trip Advisor 2017
We hope you have enjoyed our Family Travel Guide To Whistler!
Be sure to check out our Top 10 Educational Whistler Experiences.