April 20, 2021
Post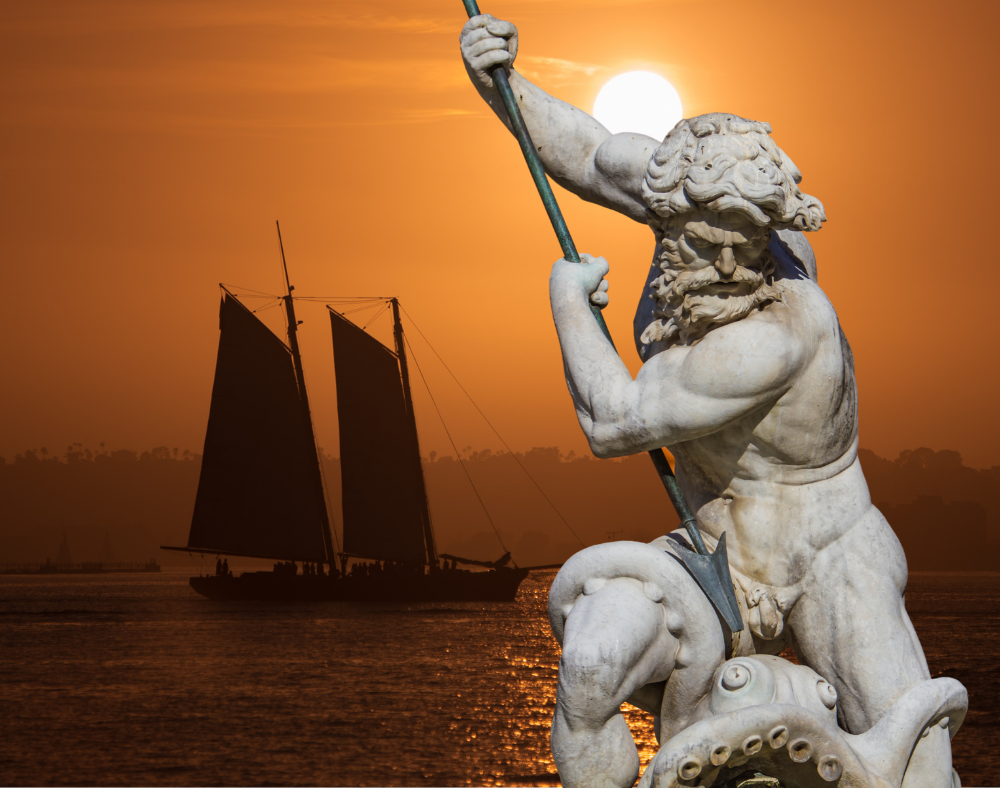 The Cyclades archipelago represents the ultimate Mediterranean bliss, with charming whitewashed villages, blue-domed churches, empty beaches and azure waters.  If you really can't choose which one to visit, why not charter a boat and sail between several as we did on our Dreamy 8-Day Cyclades Sailing Adventure: Part 1.  But hurry, before the secret is well and truly out!
8-Day Itinerary Overview
Athens to Kea
Hello to Serifos and hit the seas!
Sifnos
Polyegos and Milos
More of Stunning Milos
Folegandros
Santorini
Farewell in Santorini
Route Map for our Dreamy 8-Day Cyclades Sailing Adventure: Part 1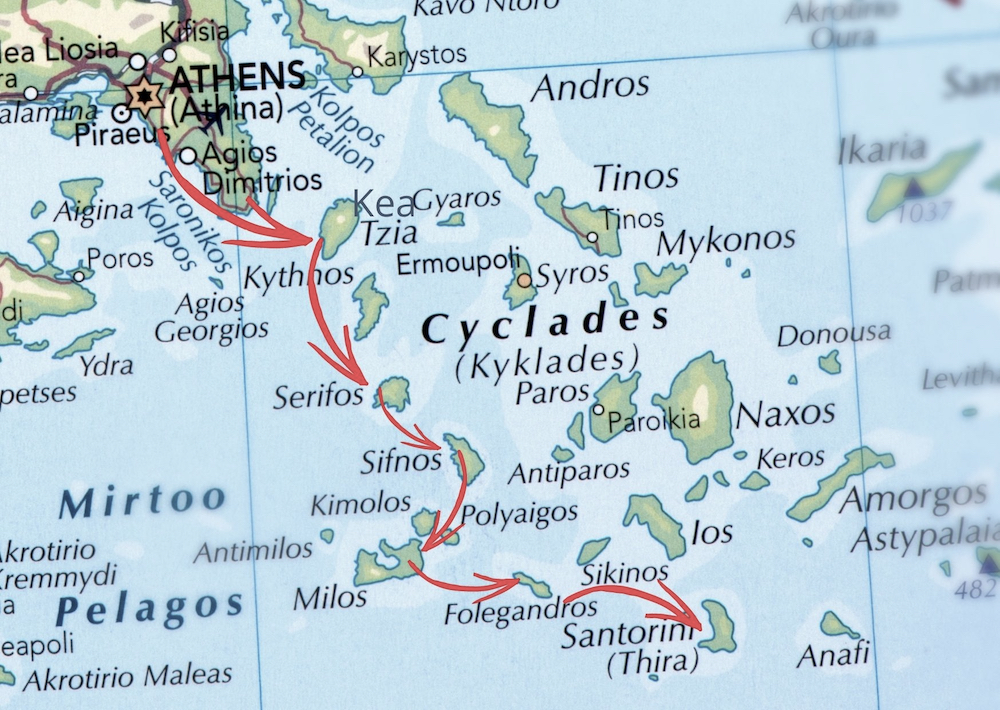 ---
Earthquakes, raging storms and hideous aquatic monsters are the stuff of legends.  According to mythology, Poseidon was associated with major catastrophic occurrences, all in a bid to show his displeasure.  As my daughter's horse-shaped animal biscuits float off the starboard side, my annoyance quickly gives way to sense as my son explains the logic behind it all.  "If any boat is to survive Poseidon's realm, a sacrifice has to be made."  He quickly informs me the ancient Greeks would drown horses or kill bulls on beaches or temples as sacrifices to Poseidon in exchange for safe passage.  
His enlightened explanation finally convinces me.  Our equestrian sacrifice to Poseidon's memory may be just enough to preserve our Dreamy 8-Day Cyclades Sailing Adventure: Part 1. 
Sacrifice concluded, we are ready to embark on our quest
to discover the Cyclades on an epic voyage through Poseidon's realm.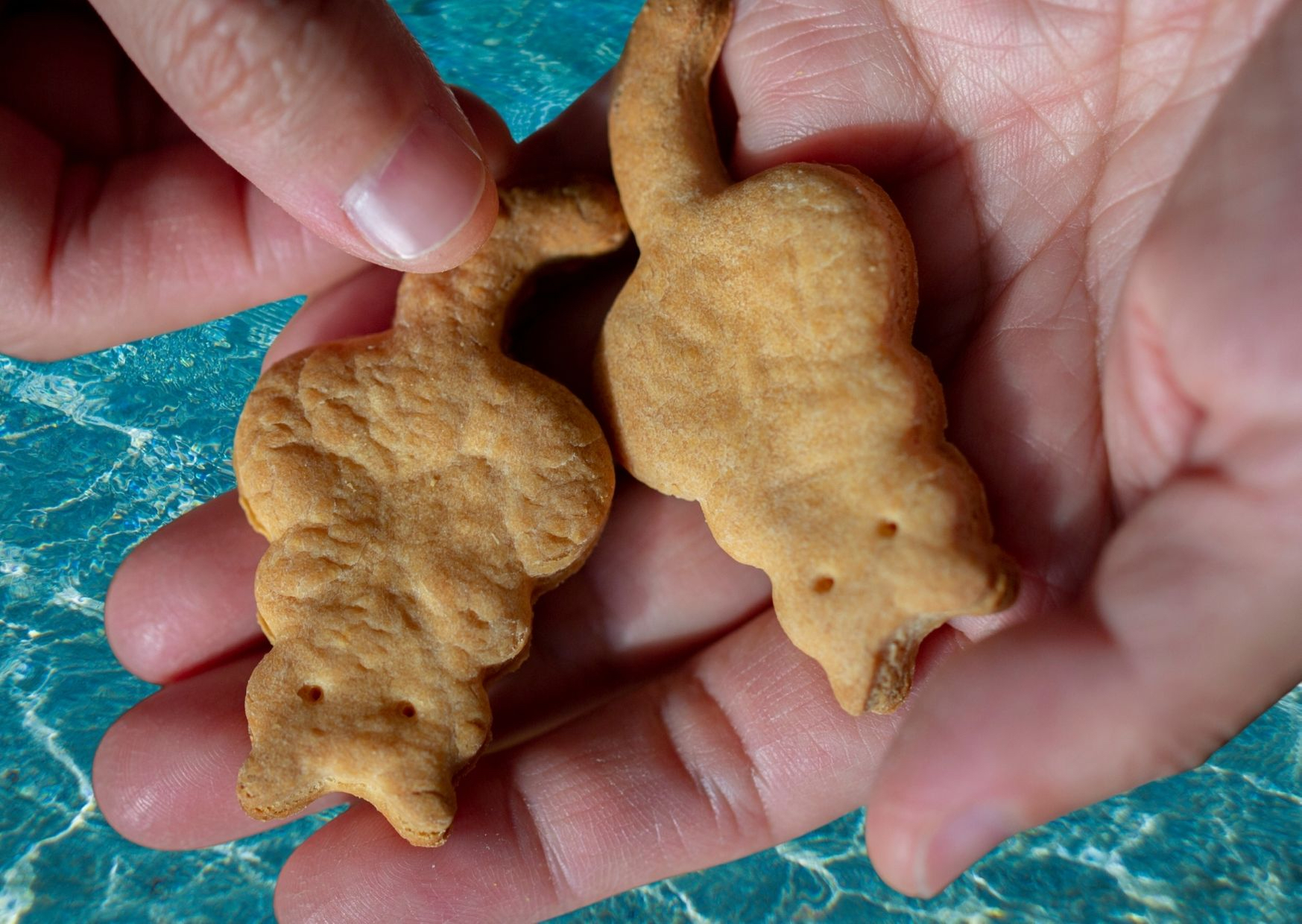 ---
Educational Insights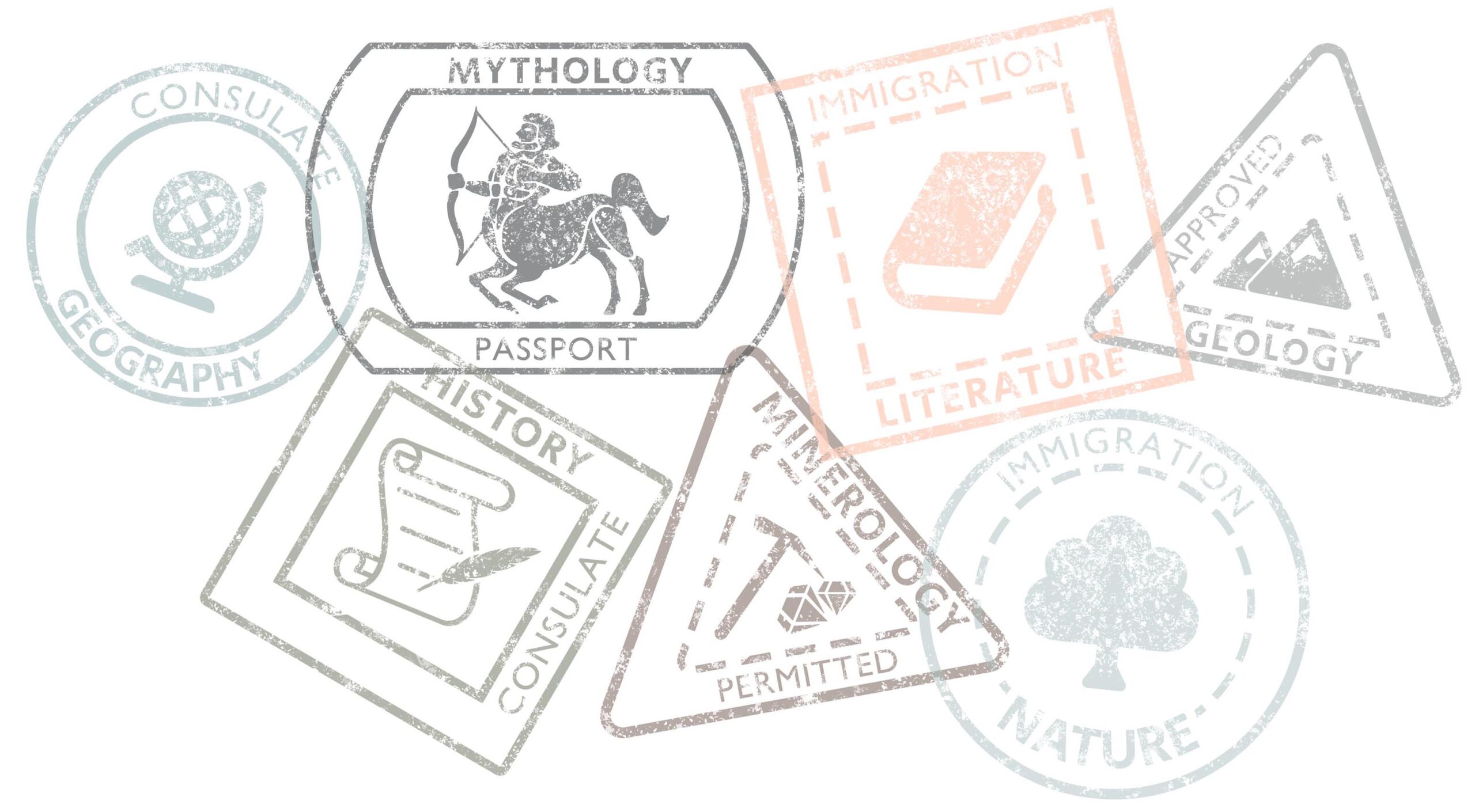 Cyclades
About
The Cyclades are a cluster of dazzling little islands, the epitome of quintessential Greece.  Scattered around the Aegean, they are filled with sugar-cube houses, blue-domed churches golden beaches and a multitude of archeological sites. We are embarking on a Dreamy 8-Day Cyclades Sailing Adventure: Part 1 around some of these islands.  We hope to discover the homes of mythical kings and queens, experience the stomping grounds of gods and heroes and unearth the lairs of terrible monsters and beasts.  At least that is how I sold it to our kids!  
The legends and myths surrounding the Cyclades are plentiful, attempting to explain the islands' geography and turbulent history.  According to ancient Greek mythology, the Cyclades were Oceanids (nymphs) who were transformed into rocks by Poseidon when they made him lose his temper.  Mentioned in ancient writings of Herodotus, Thucydides and Strabo, the islands were given the name of 'Cyclades' because they formed a circle around the sacred island of Delos (birthplace of god Apollo), the Greek word for circle being "kyklos". 
Our Temporary Home
Our home during our Dreamy 8-Day Cyclades Sailing Adventure: Part 1 is a fabulous sailing catamaran. It comes complete with skipper and chef.  This trustworthy crew is here to guide us through the Aegean and hopefully avoid any nine-headed beasts along the way.  However it isn't beasts we will have to battle on our journey but the challenging meltemi winds that prevail in the area during the months of July and August.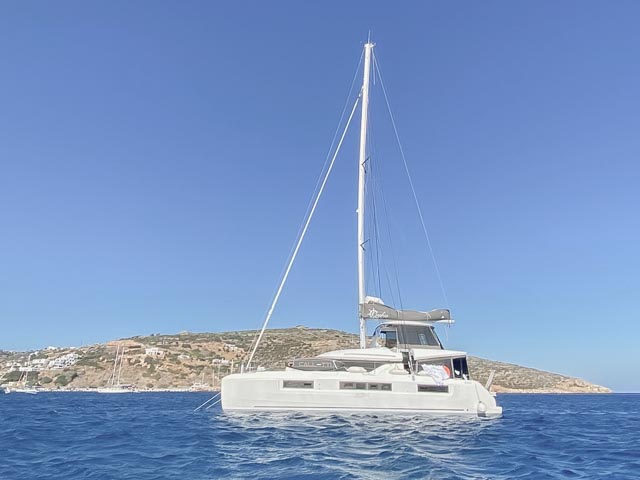 Boarding our catamaran in Athens, we quickly set sail.  As we leave the busy metropolis behind, we hug the southern coastline to enjoy the views.  My thoughts of Poseidon quickly return as we pass his imposing temple in Sounion towering over the edge of the promontory nestled amongst spiked cliffs. 
Visions of King Aegeas leaping to his death upon the sight of black sails in the distance
is a sombre thought, mistakenly confirming his son Theseus's demise. 
We quickly remind ourselves that without King Aegeas, the surrounding sea would likely have some inconsequential name.  We are grateful for his contribution to the world.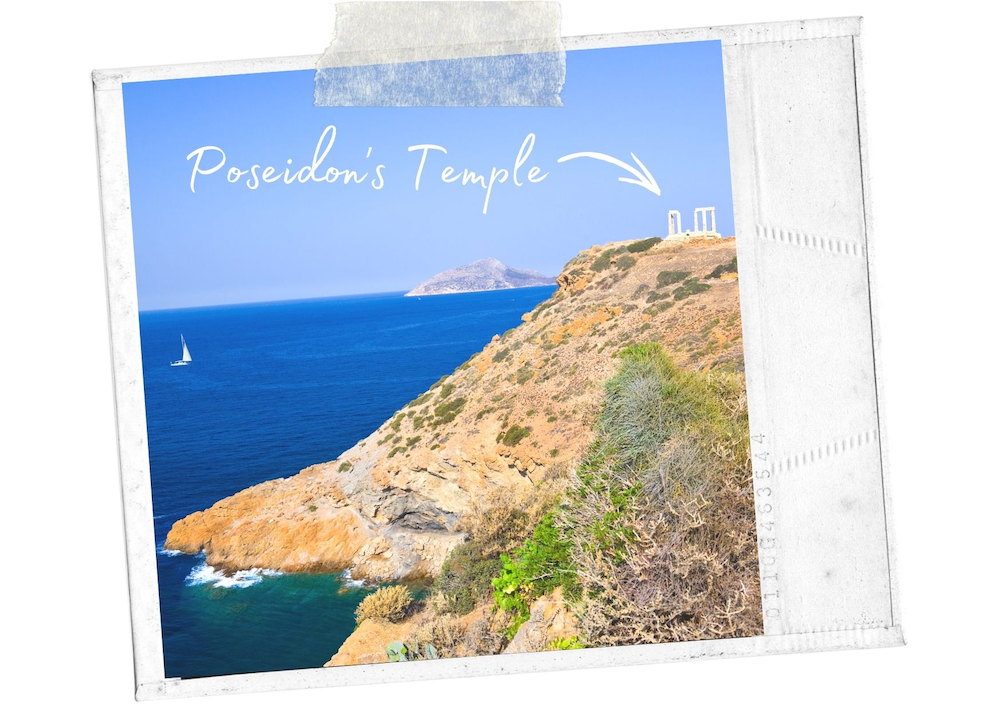 Taking comfort from our cookie sacrifice, we look out to the open sea ahead.  Excitedly we discuss the views and emotions the Ancient Greek sailors would have encountered on their own expeditions.  Whilst we weren't sailing into unknown territory,  we are experiencing a new adventure, having never chartered a boat before and not knowing what to expect.  
Regaling captivating tales from Greek mythology was a fitting way to begin our journey.  Tales of how the Aegean got its name thoroughly entertained the children during the first leg of our Dreamy 8-Day Cyclades Sailing Adventure: Part 1.  
Read More:
The Ultimate Guide To Boat Charter In Greece: Part 1 and Part 2
---
First Stop: Kea Island
As we leave the coast of Athens behind us, we head towards what I consider a true Athenian secret.  Locals refer to this little-known charming island of Kea as Tzia Island.  To me, Kea is the authentic Greece, untouched by tourism, but shhh … I didn't tell you this!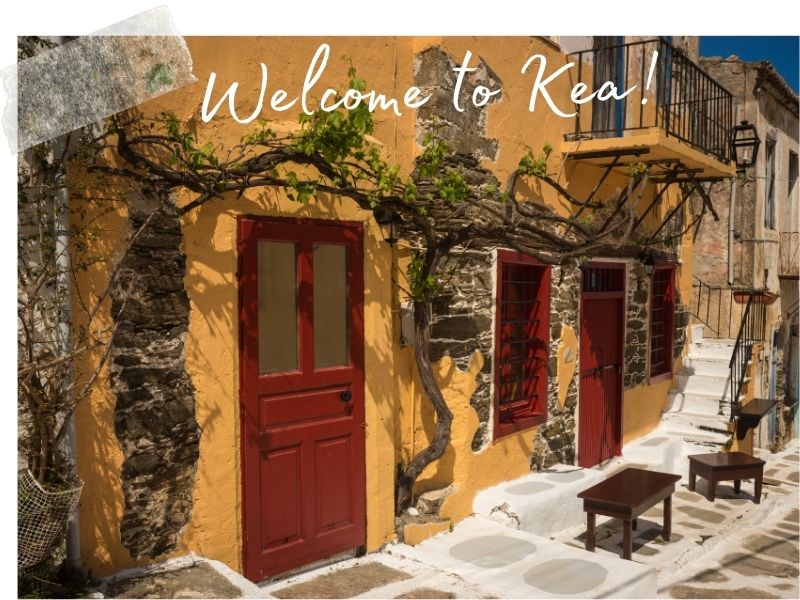 About
Kea is full of Athenians during the weekends.  It is their home away from home where they come to relax with their families.  It's the kind of place where everyone knows everyone, a place passed down through generations; a place where you are meant to lose yourself in aimless wanderings.  Filled with postcard perfect terracotta rooftops, narrow winding streets, cobbled steps and old arches lavished with colourful bougainvillea, this is the perfect first stop on our Dreamy 8-Day Cyclades Sailing Adventure: Part 1 to experience the Greek islands.  Maybe this is what gives Kea its untouched charm.  
Kea is paradise for nature lovers and hikers with various trails scattered around the island.  The thyme-scented pathways can lead you from dense wilderness to the four ancient cities of Ioulida, Karthaia, Koressia and Poiessa.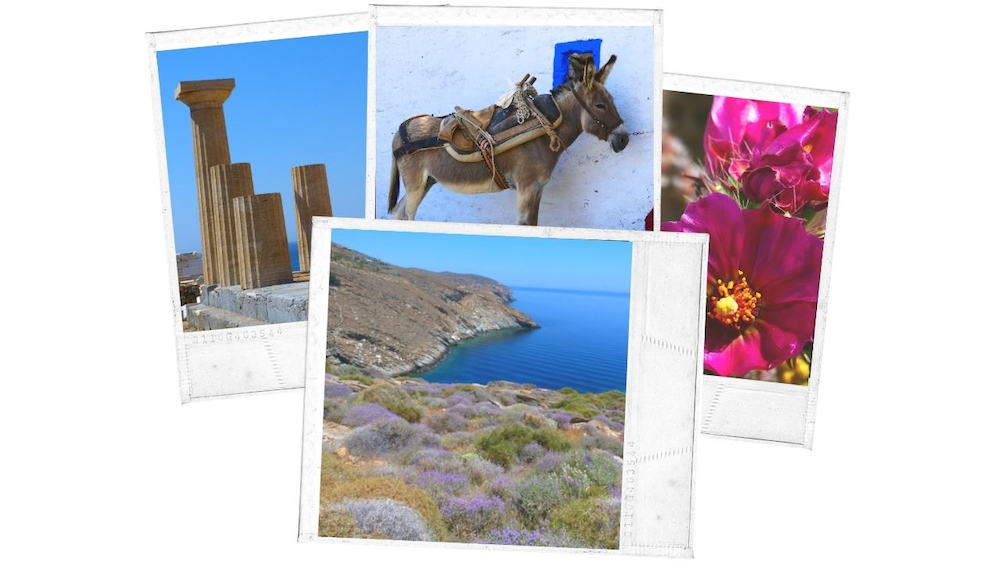 There are paths that lead to pristine beaches
where your only company is the sound of the sea and a few wandering goats.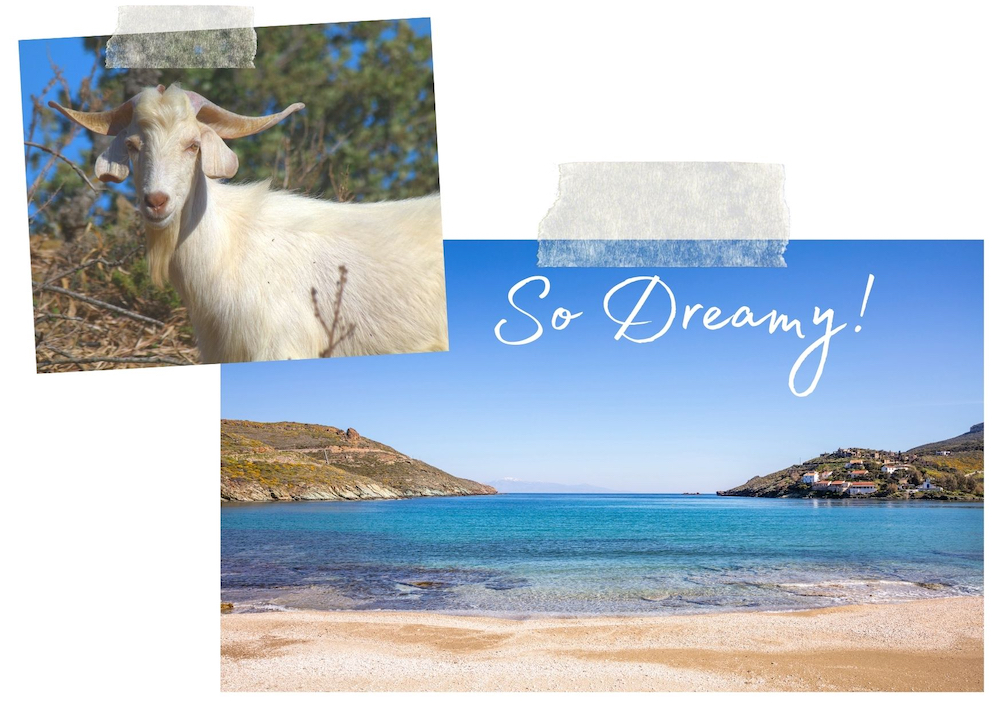 We spend our short time in the company of friends who own the family-run restaurant Aristos on the waterfront in Vourkari, feasting on gargantuan proportions of lobster spaghetti and devouring calamari so fresh its succulent flavours melt in our mouths.  A couple of ouzos later we find ourselves on one of Kea's many hidden beaches, golden sand and translucent water lapping at our feet.  Can our day possibly be any more idyllic?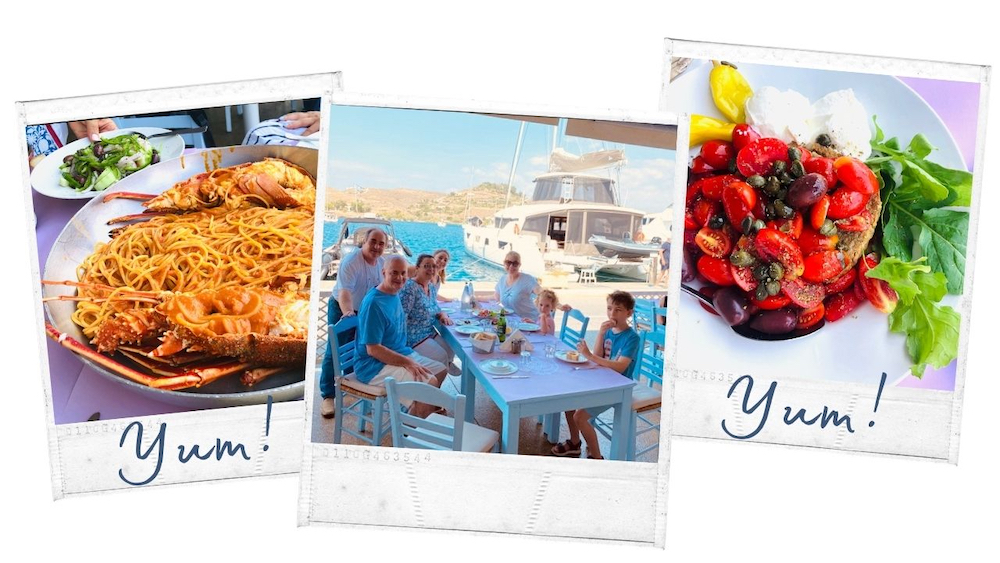 Diving
Divers are able to explore a variety of shipwrecks.  The grand dame of them all is the Britannica, sister ship of the Titanic.  Whilst only accessible to the most experienced and qualified deep divers, my husband had to content himself with other shipwrecks and rich marine life the area has to offer.  After diving in the company of Yiannis, the owner of a local boat tour and dive operator Kea Divers, it is time to set off and continue our search for Poseidon the following morning.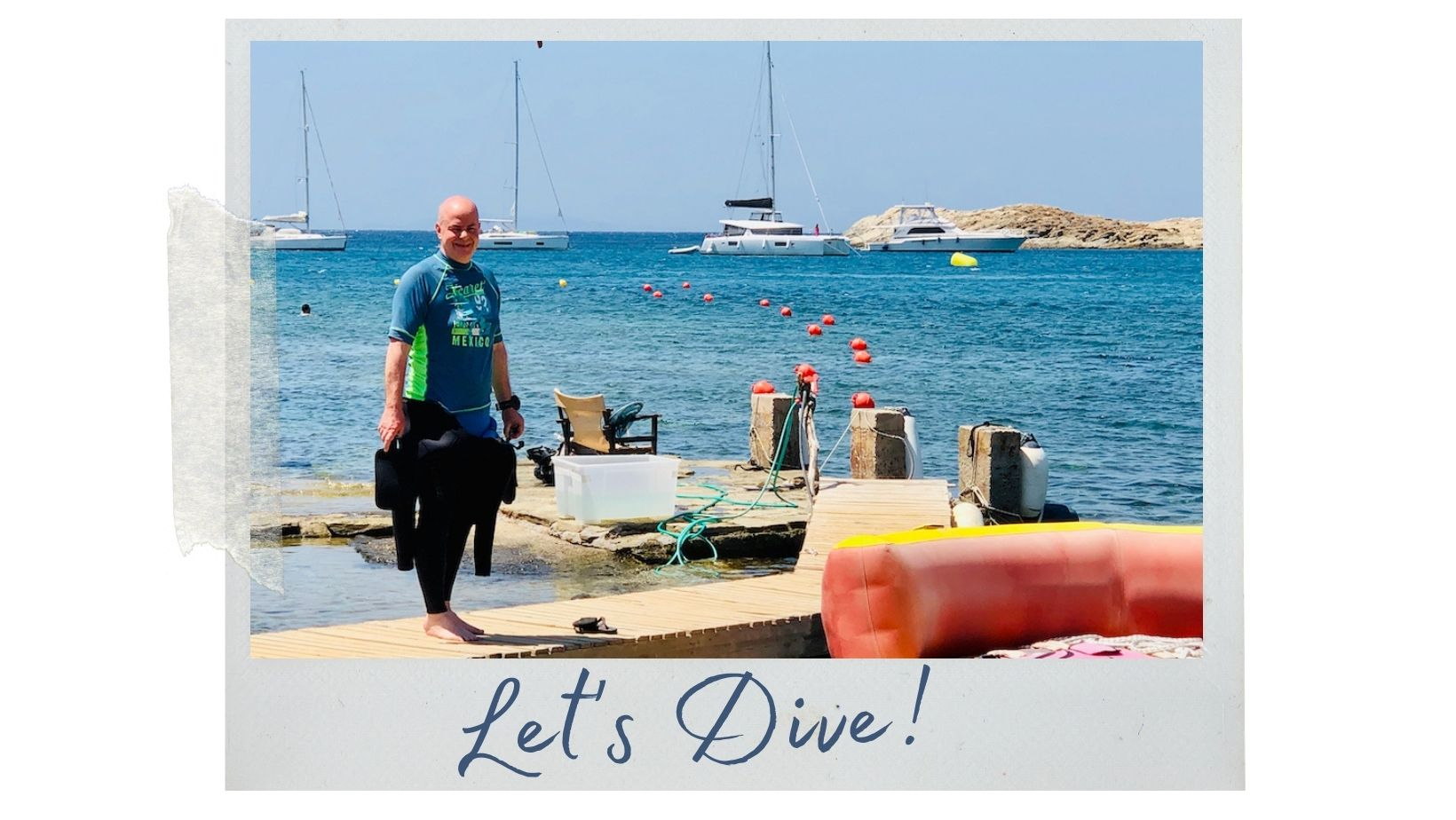 We didn't have to search very far.  As soon as we set sail, we get a little taste of what Poseidon is capable of.  We experience some of the meltemi which instills fear in the hardiest of sailors.  It took the skill of our skipper Fivos to navigate around the churning waves and begin our journey across Poseidon's realm.  
---
Second Stop: Serifos and Sailing

About
After a salty windblown crossing, we begin following in Odysseus's footsteps.  We sail past an island that catches our attention.  Serifos occupies an important part of Greek mythology because the island is linked with two of the greatest heroes in mythology, Odysseus and Perseus.  Odysseus is said to have passed by Serifos on his return journey to Ithaca and this is where he faced the giant Cyclops Polyphemus, whom he blinded with his spear in Homer's The Odyssey.  
Cave of Cyclops
We gaze upon this cave of Polyphemus, visible from the water as we sail past Serifos.  Looking into the cave ahead we imagine an eerie warren of alien shapes and boundless dark.  The cave looks deep, reaching far back out of sight.  In the shadows formed by the water, it is easy to see all kinds of gods and monsters in the surrounding rocks.  While the sun illuminates the entrance to the cave, it is easy to imagine Odysseus coming here in ancient times, peering into the darkness beyond with nothing more than a fiery torch. 
Another name for the Cave of Koutalas is Cave of Cyclops.  It is located on the west of the Koutalas Beach, on the southwestern part of Serifos Island.  This cave was only discovered in 1893, having spent its time being covered with large stone surrounded by mud.  Visitors are unable to go inside due to the collapsed walls, however it is said the interior of the cave is decorated with many stalagmites and stalactites with strange shapes and you can certainly have a peek from the outside.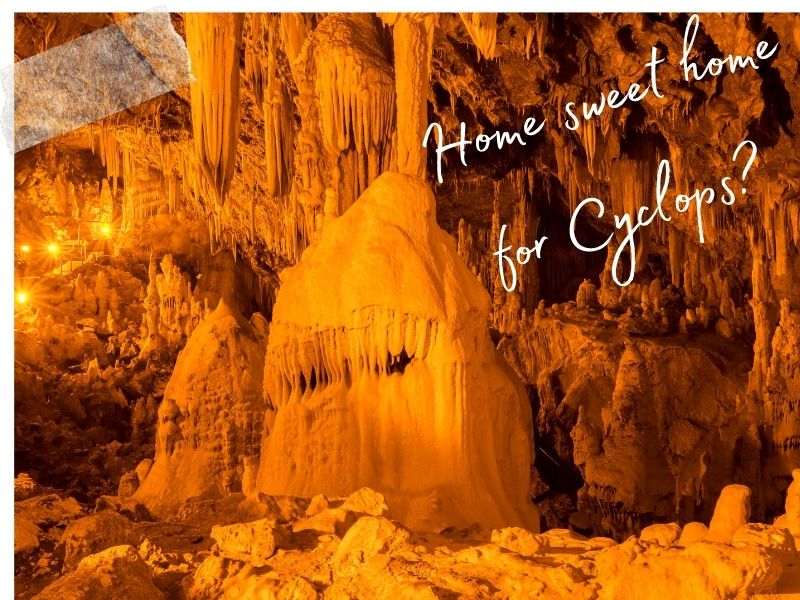 As Polyphemus desperately tried to stop Odysseus's escape, he lifted a large rock and threw it towards their ship.   This rock became a barren island, now known as the islet Garbias or Mikronisi.  This rock is located by the edge of the bay, southwest of Kalo Ampeli.
It is also to Serifos that the Greek hero Perseus returned with Medusa's head.  Having departed the island towards the distant Gorgone Island where Medusa lived with her sisters, he returned back to become King of Argos.
Can all this possibly be any more amazing for children to see and learn? 
Our Thoughts
Our son has read just about every book he can find about Polyphemus and Medusa.  The opportunity to see the lair of the famous beast is exciting enough.  Throw in the place where Medusa's head was once presented and it becomes an experience they will always remember.  Wide eyed and full of wonder, I can see his imagination kicking into overdrive as he replays the events of that fateful day when Odysseus and his men landed on the shores of Serifos or when Perseus retuned with a bag dripping with the blood of the fabled Medusa.
Serifos is a real hidden gem .  With a charming Chora and various archeological and mythological sites to visit including the throne of Cyclops, it is an island worth exploring with children. Be sure to read Homer's The Odyssey to them to really get the most out of it.
READ MORE: Top 12 Greek Mythology Books For Kids
---
Third Stop: Charming Sifnos
Our son is happily occupied staring out to sea searching for the mythical Gorgone Island where Medusa reigned supreme.  It's not long before we come upon our next stop in our itinerary, the delightful island of Sifnos.  

About
Sifnos is a deliciously remote and drowsy Greek island.  Recently, the burgeoning food scene here has made Sifnos a go-to destination.  Equally known for its intellectual wealth, it churns out creative excellence in poets, writers and folklore scientists amongst others.  Touted as the island of poets, it is the birthplace of famous poets such as Ioannis Gryparis, Kleathis, Triantafyllou (or Rampagas) and Aristomenis Provelegios.  
Sifnos has an intense tranquility.  The slow rhythm of life beats in time to the buzz of the local cicadas.  Filled with stunning sandy beaches and secluded swimming spots, gorgeous hilltop villages, and numerous archeological sites it is an island that regularly features on best islands to visit lists.  We choose to spend the day exploring the island to understand the place that has inspired so many.
Sifnos only has a few towns so you can easily hire a moped and see it all in one day.  If, however, you have children, it is best to ask your skipper to call for a taxi.  As this island is fairly small, taxis are in short supply so it is best to book it beforehand.  The same can be said of rental cars although we found we didn't really need one for Sifnos.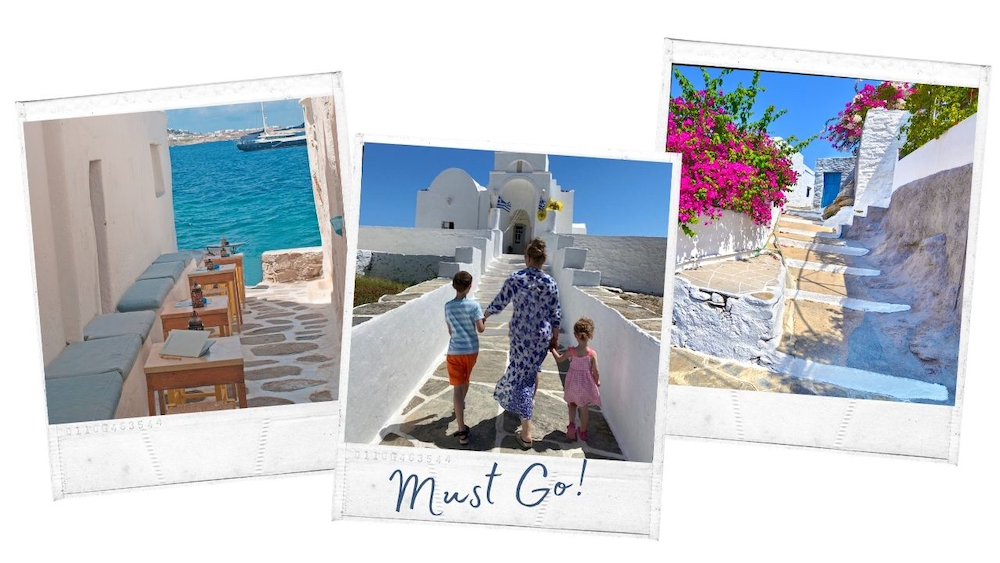 Kastro
We inform our driver we wish to visit Kastro, situated on the east side of the island.  Kastro is a scenic 3,000 year old village sitting on top of a rock.  Built like a fortress, this was once the beating heart of the capital.  With breathtaking panoramic views, it is an achingly charming village filled with narrow labyrinthine cobbled pathways.  Fluoro-pink bougainvillea strewn arches frame the Venetian style houses. 
Being rich in antiquities, we discover tiny streets yielding ancient artefacts at every turn.  An amphora placed casually at the end of a passageway and an ancient sarcophagus wedged between two walls look as if they have been there long before our millennia passed by.  Seeing such incredible artefacts placed haphazardly amongst the winding narrow streets was like taking a journey back in time.  We marvel at their preciousness as we meander aimlessly through the village in a circle, happily losing our bearings as ancient Greek grandmas gossip and wave to us from their geranium clad balconies.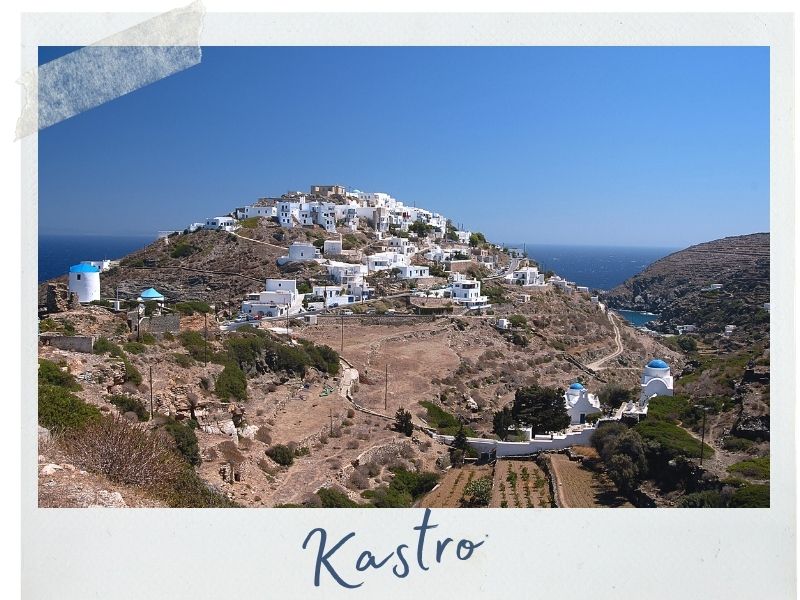 Church of the Seven Martyrs
Making our way around the outskirts of the village a path looms into view.  We follow this sun-dappled ancient stone path.  Ravaged by the winds of time, it winds past crumbling walls suffused with purple flowers dating back millennia. Rounding a corner we stumble upon a chapel seemingly floating on an outcrop of rock.  This is the place I have been looking for, the Church of the Seven Martyrs and the most photographed location on Sifnos. 
Rising up on a remote outcrop above the sea, thyme bushes bloom with tiny purple flowers.   With only the bees to keep these flowers company, this stunning church occupies one of the most beautiful settings in the world.  We make our way down endless steps that seem to reach the horizon to explore the church I have heard so much about.  The church is closed at certain times but a peak through its wind bashed windows reveals a charming place of worship that the lucky few are able to enjoy.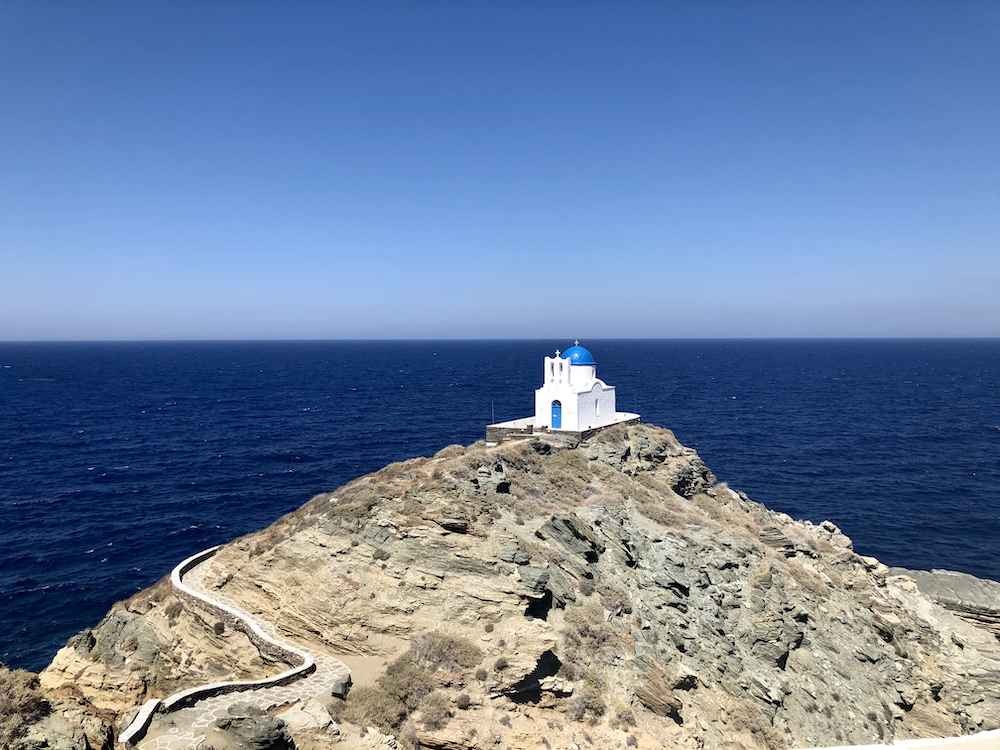 After our exploratory morning, we stop at Dolci Restaurant and Cocktail Bar for lunch and refreshments.  Located at the entrance to the village of Kastro, it makes an ideal watering hole.  Achingly trendy with its cosy chairs, cushions and benches, we sit on the shaded terrace overlooking the mountain being lulled by the lounge music of Hotel Costes while a refreshing breeze soothes us.  It is must to visit when in Sifnos!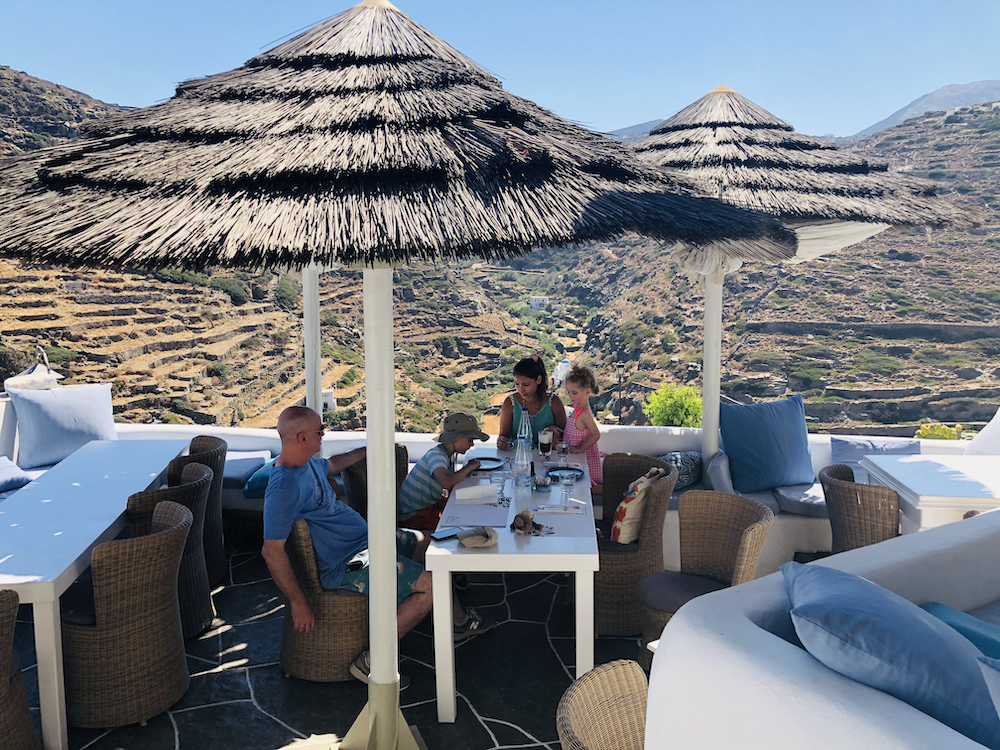 Our Thoughts
Sifnos is a truly lovely island off the beaten track with incredibly friendly people and even more incredible food.  There is a stylish vibe here with boutiques that wouldn't look out of place in St-Tropez.  Charming tavernas are perched on cliffs overlooking the sea, azure-domed churches dot the countryside and a perfume of herbs fills the air once the summer's heat has receded in the early evening.  Scents of sage, thyme, oregano and marjoram stay with you long after the sun has dipped below the horizon.  
Enveloped by the perfume of Sifnos, we make our reluctant departure.  A Greek mandolin plays melancholy tunes somewhere the distance.  The gentle whistles of the meltemi add to the symphony of sound performing a fond farewell.  We vow to make it back to this magical place one day.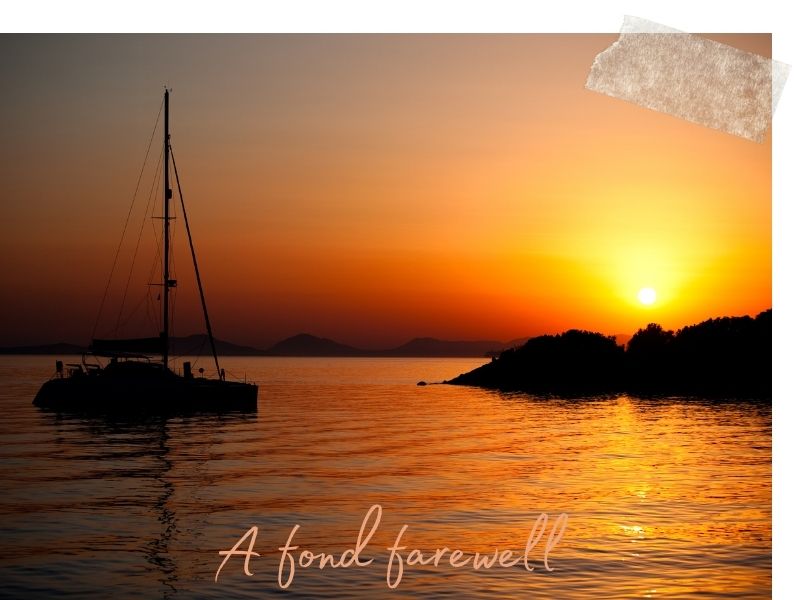 ---
Fourth Stop: Polyaigos and Milos

Polyaigos
The Cyclades is full of numerous uninhabited islands.  Inviting coves fill these islands with incredible aqua water.  This water is so translucent it looks like it glows from within.  We arrive in Polyaigos early in the morning and wake up to a vision that takes our breath away.  Emerald, sapphire and turquoise waters dance around us while ebullient fish dart back and forth, frolicking amongst the rays of sunlight illuminating the water.  In the distance are ancient chalk white caves and arches framing this perfect portrait.  We spend the morning here swimming the crystal clear waters and enjoying a variety of water sports from our catamaran.  
If ever there was a utopia, this must be it. 
Accessible only by boat, this pristine uninhabited island is full of mystery that only the resident goats and seals are privy to.  One can only imagine Odysseus sailing past this stunning spot, perhaps tempted by jumping into the water himself.  We tear ourselves away from this vision of perfection to sail onwards to new adventures.  
Milos
If an island could be a rockstar, Milos would be it.  Our next stop is one of the Cyclades' best hidden gems, offering stunning rock formations, mineral-rich hot springs, sea caves and brightly painted fisherman huts.  The volcanic landscapes are what makes this island so special and along with it a cracking myth involving Aphrodite (the goddess of love and beauty) as Milos is considered her birthplace.  
We arrive in Milos in the balmy late afternoon heat.  Incredible white cliffs soar out of the water like rockets ready for take off.  Passing by Tsigrado Beach which is accessible only by a ladder in the cliffs, we begin to explore the area of Kleftiko, the most marvellous spot on Milos which can only be accessed by sea.  Located on the southern side of the island, Kleftiko is an intriguing place that is filled with myths and legends since it was a pirate hideout for a thousand years.  This iconic patch of coastline exemplifies everything dreamy about the island.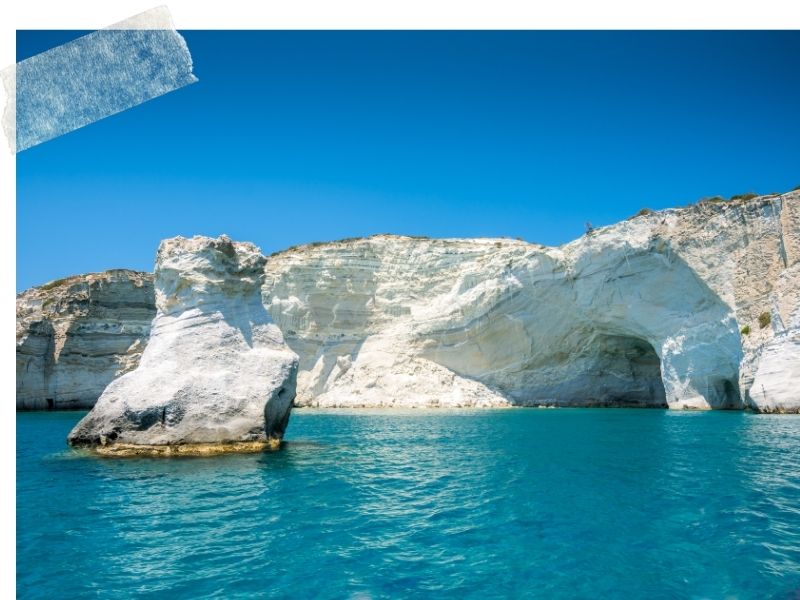 Kleftiko
We decide to take the tender out so we can explore the old pirate caves up close.  What we find is awe inspiring.  Many of these caves were carved out by pirates themselves as a base to conceal their ships, much to the detriment of any unlucky passing vessels. The biggest surprise inside these caves are the glistening purple walls made of genuine amethyst, making them treasures in themselves.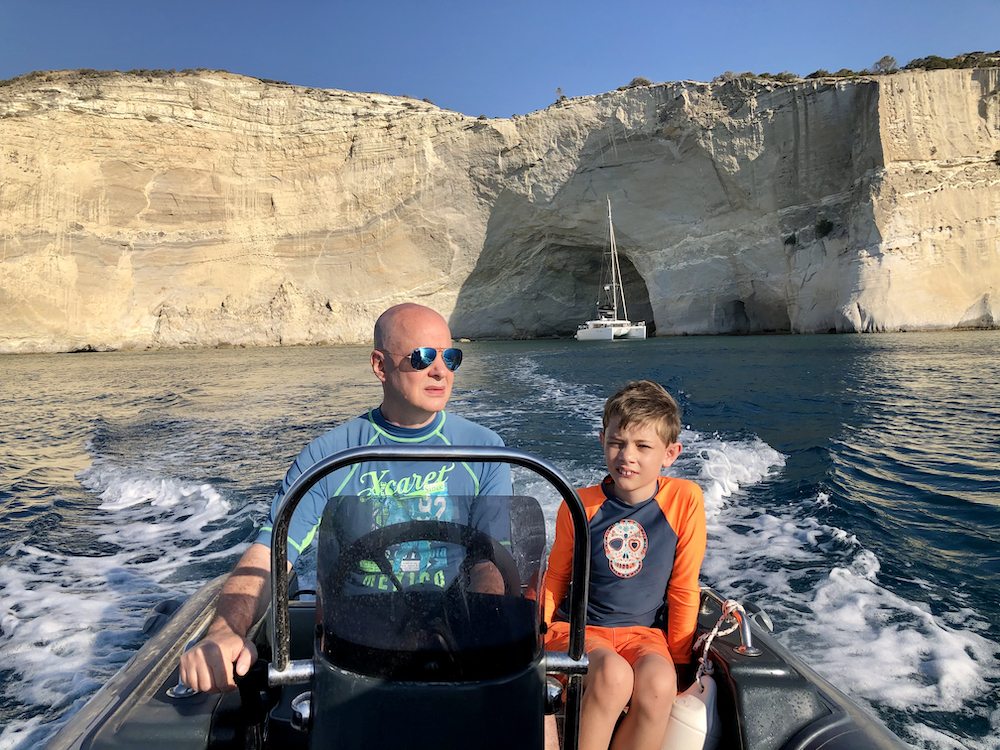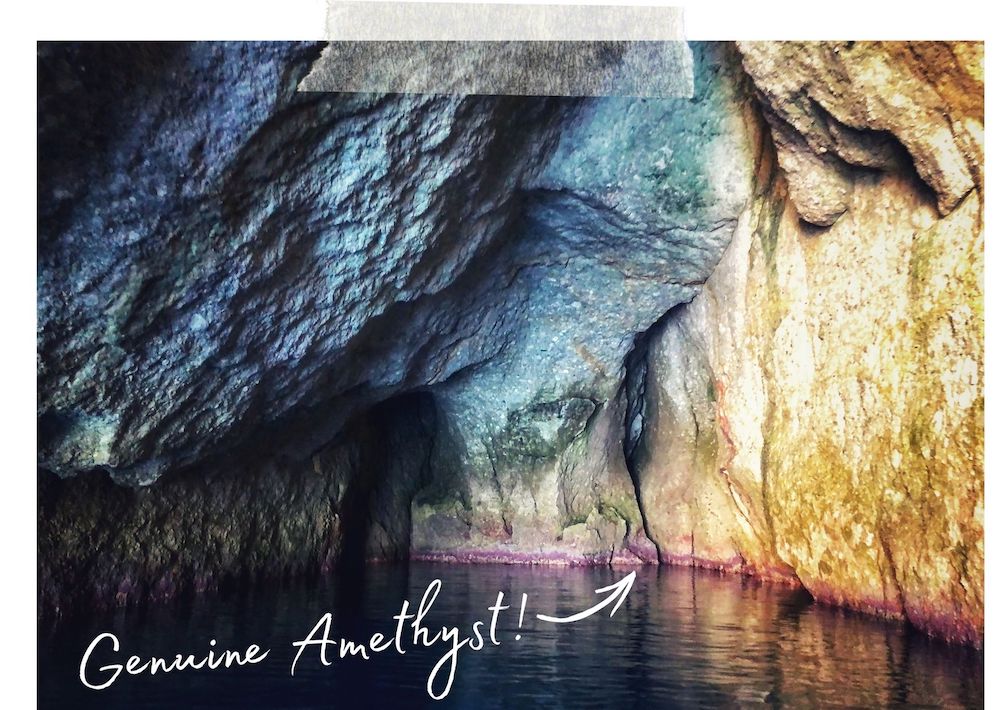 Following an afternoon of pirate history, we are fortunate enough to spend the night moored near the caves. Waking up to dazzling turquoise water reflected against the blinding white of the cliffs is one of life's bucket list adventures.  I decide to go up on deck to relish the view while listening to my son whooping like a pirate below deck.  After a refreshing morning swim in the crystal clear water, we depart for the main port of Adamas passing rock formations jutting out of the sea that resemble bears, called Arkoudes which get the children's imaginations going.

Plaka
Spending the evening moored in Adamas, we explore the shops and tavernas at the port.  Whilst it is one of the more touristy places in Milos, it is where most of the boat excursions for the rest of the island head off from.  
We make our way by taxi to the main town of Plaka.  Making it in time for the sunset, we anticipate an evening of culture and dining under the stars. Plaka is located at the top of a large mountainous hill. The breathtaking views of the sea below are a perfect frame for the spectacular sunsets we witness here.  Watching the various hues of pinks, oranges and golds dance across the sky is a sight to behold as the last of the sun sinks below the horizon. We dine at the most charming taverna.  Set under a sliver of moon, the domes of far-off churches glimmer in the darkness like dazzling stars.
Can the rest of our journey compete with such a spectacular start? Having had a taste of Milos today, we know we want more.  Read on to find out just how spectacular this island really is!
Read More: Dreamy 8-Day Cyclades Sailing Adventure: Part 2
We hope you have enjoyed reading about the first part
of our Dreamy 8-Day Cyclades Sailing Adventure: Part 1.