April 4, 2021
Post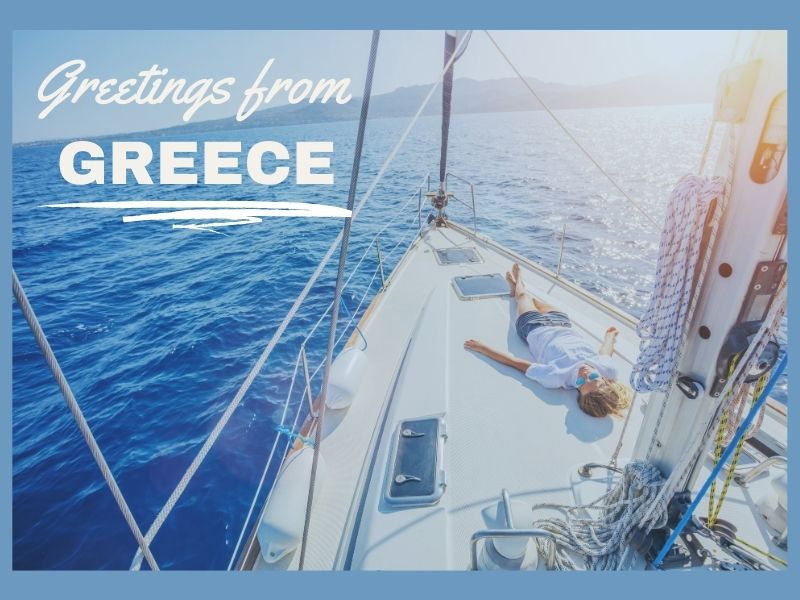 Chartering a boat is an incredible way to see a destination.  For many it is the dream trip of a lifetime. Having done it ourselves, The Ultimate Guide To Boat Charter In Greece: Part 2 is meant to help simplify the process for those who are considering this experience in Greece for the first time.  
In The Ultimate Guide To Boat Charter In Greece Part 1, we have covered the reality of life on board, considerations to make before planning, when to go and where.  In The Ultimate Guide To Boat Charter In Greece: Part 2, we demystify the chartering process and help make a sailing holiday to Greece a reality.  

---
Will I Need Crew?
There are numerous charter companies in Greece that can offer boats with or without crew.  One of the first questions to consider when planning a sailing holiday is whether you want or need a skipper or even a chef/hostess for your boat.  

BARE BOAT
With the bareboat option, you are effectively on your own with no crew, no schedule, no itinerary.  The charter company will likely provide you with maps and emergency support but other than that you are just hiring the boat and returning it at an agreed date.  If you choose to go bareboat, keep in mind that at least one of the passengers has to hold an RYA Day Skipper International Certificate of Competence (ICC) or a license from a registered open-water sailing school.  If your license as been issued outside the European Union, you will have to have it translated and even certified.  
Experience plays a huge part in sailing your own vessel and choosing your destination wisely is key.  Keeping to the Saronic Islands, Ionian Islands or Northern Sporades is a good choice as these islands tend to be paradise for sailing, offering fairly light winds and calm seas.  The Cyclades and southern Aegean, in contrast, can challenge even the most experienced of sailors as the meltemi winds can whip up the sea regularly.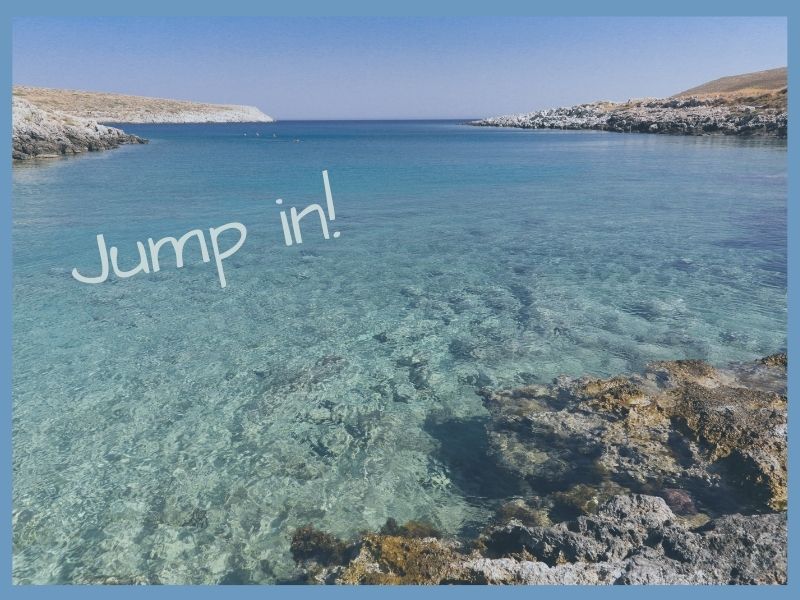 SKIPPER
A charter company can provide you with an experienced local captain to guide your vessel.  If the thought of sharing a confined space with strangers puts you off, bear in mind that crew are trained to keep a low profile on board so when possible they will make themselves scarce unless required.  
When you board your boat, your skipper will greet you and help you settle in.  They will assist with loading luggage on board and with any other boarding requirements.  There will be deck rules to go through and emergency evacuation procedures to familiarise yourselves with.  Prior to departure, they will already have knowledge of the weather forecast and they will sit down with you to go through your itinerary, making any adjustments and suggestions where necessary, safety being the utmost priority. 
The other aspect to consider whether or not to hire a skipper is their ability to guide you and their local knowledge.  They will likely be very experienced on where to drop anchor, be familiar with secluded coves and beaches, mooring procedures, etc.  As they are familiar with the areas in which you wish to sail, they will be able to recommend restaurants, tavernas, activities and things to do.  It can really mean you end up with an incredible holiday.  They are there to take any pressure and stress off your journey so you are free to enjoy the holiday of a lifetime. 
CHEF/HOSTESS
Another option for a skippered cruise is to include a hostess and/or chef on the boat.  In many instances, a chef will take on the duties of a hostess as in our case when we chartered our boat in Greece.  The duties of a chef/hostess is to prepare and serve breakfast, lunch, snacks and dinner.  All meals will be prepared to your requirements and you can choose whatever menu you wish.  About a week prior to your departure you will be asked for a shopping list of anything specific you require in terms of food, drinks and snacks.  Once on board, the chef/hostess will go through a proposed menu with you to get a feel for the type of culinary requirements you have.
A chef/hostess is also responsible for the cleaning on board the vessel, emptying bins, etc.  They may also double up as the skipper's hand and will assist the skipper in mooring and sailing when required.
On the evening of your departure, the chef/hostess will go through all the receipts from the food shopping with you.  Payment will then be required to be made on the day of departure.
It is customary for you to be responsible for feeding the crew while on your trip.  Therefore, any meals made by the chef will be larger portions in order to include the crew in the meal.  
---
Type of Boat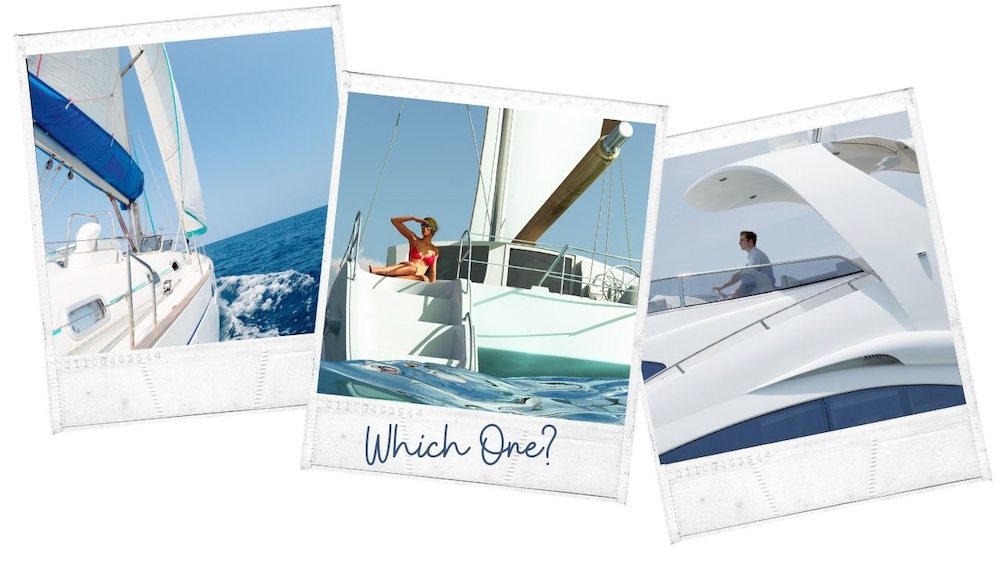 There are various types of boats available for charter in Greece.  These range from a tiny sailboat to a large motorised yacht with all the bells and whistles.  We cover some of these in The Ultimate Guide To Boat Charter In Greece: Part 2.
There are quite a few points to consider before choosing the type of vessel you want.  
Motorised 
Opting for a motorised yacht has its obvious advantages.  These are usually beautiful, spacious, come with numerous aquatic toys, include a motorised dinghy, and can be fully crewed.  
Less commonly known are the disadvantages.  As these vessels are quite large, they are difficult to get into secluded coves and mooring becomes challenging.  In my opinion the largest disadvantage is the fact that these large motorised vessels will not be able to leave a port if the winds are over 35 knots.  So if, for instance, you plan on an itinerary in the Cyclades during July/August, your vessel may get stuck in a port for an undetermined amount of time due to the meltemi winds hitting the area from the north.  Whilst these vessels are large, they are not able to cope well with the meltemi.  

Non-Motorised
The non-motorised options include monohull sailing boats or catamarans.
Monohull
There is one major advantage of monohull sailing boats.  Once sails are up, they are able to cut through waves beautifully like a knife through butter.  This allows them to really build up some great speed.  However, space is very tight on a monohull vessel and could be a concern if you have small children.  These vessels also roll with the wavs so you will feel the movement much more which is something to consider if you or anyone on board is prone to sea sickness.

Catamaran
The other most popular option is chartering a catamaran.  These are available as non-motorised or there are ones that have both sail and are motorised also.  We opted for a catamaran that had both options and we were glad we did as we hit winds where having both was a major advantage.  We were sailing fairly long distances so having both gave us flexibility we wouldn't have otherwise had.
The main benefit of a catamaran is space and speed.  These vessels are built to be wide and stable so a catamaran offers much more space than a monohull and minimises the chance of sea sickness.  It is also slightly faster than a monohull.  It is an excellent choice for beginners so if you choose to go bareboat, a catamaran is a great place to start.  There is a comfortable deck with places to sit, sunbathe and eat, cabins with private bathrooms, a communal saloon/sitting area inside as well as a kitchen.
A catamaran offers great sailing behaviour, particularly when it gets windy and wavy.  It is able to handle winds higher than 35 knots with ease so you are able to leave port when weather is challenging for other motorised vessels.  You are able to get closer to small secluded beaches and even anchor in shallow water to access these beaches.
With all these benefits it is hard to imagine there are disadvantages, however there are a few to consider.  Because catamarans are quite wide vessels, it makes it more challenging to anchor in a marina due to its size.  This can be addressed by arriving in ports early in the morning so you have a choice of space.  The other disadvantages include limited choice of models to select from compared to a monohull, it is not ideal for upwind sailing and catamarans tend to be more expensive than smaller vessels. 
We believe chartering a catamaran is an ideal choice for families due to the space that is available as well as its performance. The Ultimate Guide To Boat Charter In Greece: Part 2 is based on our own travels in a catamaran.

---
Other Considerations
With or Without Tender
When you charter a catamaran, you do not always get one with a tender (a motorised dinghy).  Be sure to confirm this when finalising your charter.  Having a dinghy is a huge advantage as it means you are able to moor near to port and use the dinghy to get to and from land.  This is helpful when there is no mooring space available in port.  A dinghy is also useful if you wish to explore secluded beaches, caves and areas that are only accessible by small boat. It is also useful if you wish to enjoy any motorised sports off your vessel such as waterskiing, tubing, etc.
Number of passengers

 
This will determine the minimum number of bedrooms you require.  If you choose to share a vessel with another family then privacy is something to consider.
Bareboat or crewed
If you charter a crewed vessel, keep in mind that the crew will need a place to sleep.  It's not uncommon for crew to sleep under the stars so don't rule out a boat that doesn't have an extra bedroom for the skipper.  They always find a place to sleep but be sure to address this when considering the type of vessel you wish to charter.
Amenities
Is air conditioning high on your list of priorities?  Or what about a watermaker or even a full kitchen with decent refrigerator/freezer?  Will you be cooking or dining out?  You will be surprised just how much you will need on your sailing holiday that you normally take for granted.  Considering all the amenities in advance that are important to you will assist you in choosing the right vessel.  
Time on board
Depending on the area in which you want to sail, time spent on board is a large consideration.  If you love sailing and you want to spend as much time on board as possible, then going for a slightly larger vessel will give you more space.  Equally if travelling with another family, you may want to have that bit more space to spread out. 
If you plan on using the vessel more as transportation from one island to another, then space may not be at the top of your list.  A smaller monohull boat may be a better option.
Weather patterns
Parts of Greece at certain times of the year produce high winds so choose your destination carefully.  If you know there will be high winds to contend with but you really want to go to a specific area, then you need to choose a vessel that is able to cope well with winds and waves.  If you know the weather may be rough, don't try to attempt to handle it yourself and do consider chartering your vessel with a skipper who will be experienced at dealing with it and giving you the best chance of a comfortable ride. 
Depending on the time of year you choose to go, you may encounter powerful meltemi winds.  These challenging winds blow south over the Aegean when low surface pressure over Turkey meets high pressure over the Balkans.  They are most common during the months of July and August and can be almost continuous during this time, although the typical length of a meltemi is between three to six days.  There are ways to manage these winds and enjoy some spectacular sailing provided you are with an experienced crew.
Ages of children
Through our own personal travels, I have learned that children can pretty much be taken everywhere.  It is really more dependent on the parents comfort level and what they are able to contend with.  However, when it comes to boats, I do believe that some boats are more suitable than others depending on the age of the child.  
Any pre-crawling baby or infant is fairly straightforward when it comes to travel, specifically on a boat.  In this case, you may be able to get away with a small monohull option and even sail it yourselves as a family if you have the necessary qualifications.  
Once your little one starts crawling, the dangers increase tenfold on a boat so going for space should be priority.  In this case, a catamaran would be the best choice for a young family as it is the only vessel that maximises on space.
When children are older, the decision between a monohull or a catamaran becomes more of a personal choice.
---
What

 To Look For
In A Charter Company
There are an incredible amount of charter companies out there.  How do you actually choose the best most reliable one?  Word of mouth is often what people seek the most but failing that, where do you even begin?  The Ultimate Guide To Boat Charter in Greece: Part 2 explains what you need to know.
First and foremost, the age of the boat will be a factor in the price so you do really get what you pay for when it comes to chartering.  Have a realistic budget in mind before you even start this part of the research will help you choose the right charter company.  We cover some of the basics in our Ultimate Guide To Boat Charter In Greece: Part 2.

CHARTER COMPANIES
First Tier
There are generally two types of charter companies to select from.  The first tier companies handle boats that are new or up to 4/5 years old.  These vessels will have the latest equipment, hardware and gadgetry including air conditioning, wifi, auto pilot, GPS, etc.  All these extras do come at a price but if you go for a boat that is either new or up to two years old, you are guaranteed to have a top of the range vessel. 
Second Tier
The second tier charter companies offer slightly older boats which have just come out of the first tier.  These boats would be 5 years plus in age.  This is a great option for the budget-conscious traveller as these boats will be priced accordingly.  The downside to working with a second tier charter company is that some boats can be up to 15 years old. Whilst these vessels will be completely safe, they may not offer the modern conveniences of a younger vessel.  
There are a variety of charter companies of differing sizes available in both tiers with equal levels of service.  Some of the smaller companies want to remain small so they can offer the best service they can, so size doesn't necessarily mean better service.  It is best to research reviews on all the companies you are interested in both online and in print such as boating magazines or better yet through word of mouth.  
The charter company may send a rescue boat should you get stranded.  Be sure to check out their policy on vessel replacement if something does go wrong.  Having this peace of mind can make a huge difference when setting out on your own.  
Some further questions to ask a charter company:
Destinations on offer
Size of fleet
Age of the boats
Type of support staff available at bases
Is there a grocery service or shuttle service from base
What water toys are available
Some examples of large chartering companies include Moorings, Dream Yacht Charter, Sunsail, Horizon Yacht Charter, Footloose and TMM Yacht Charters.
OWNER'S TIME
A secret of the chartering world!  You can actually charter a boat directly from the boat owner at a significant discount.  Going down this route is fairly simple and you do get the same guarantees as if you were booking with a charter company.  They are also able to source skippers and other crew for the vessel.  If booking in a foreign country such as Greece, it is a bit of a leap of faith so do your research well.  
Many of these owners advertise in boating magazines but the best option is word of mouth.  So get out there and start asking!
CHARTER BROKER
A charter broker acts as the middle man.  They will be acting between you and the charter company or vessel owner (a bit like a travel agent).  A knowledgable broker knows all the industry insights and will guide you in the best options for you and your family.  They will know each individual vessel's features and the crew on their listings.  This comes in handy particularly with families who have children.  
Whether you decide to use a charter company or a charter broker, the cost to you will be the same.  The charter companies pay the broker's commission so be sure to stay clear of any brokers that ask you for any fees.  If you have decided not to go for a large charter company and you want a crewed vessel, then using a broker's services is advisable.  
You will find these brokers advertising in numerous yachting magazines in the charter ads in your country of residence.  
COST
This is a question I get asked frequently and the most challenging one to answer.  Because the nature of chartering a boat is so individual, it is almost impossible to suggest a cost until both the person requiring the charter and the person assisting understand the individual requirements.  
Costs can vary greatly depending on the type of boat, the size of the boat, the season and the location.  High, low and shoulder seasons exist in the boating world and tend to follow the rest of the travel industry. Peak season is during the summer months and this can easily extend in to September depending on the location.  
The sailing seasons in Greece follow the general tourist season.  April and October are the shoulder seasons, May-June as spring season, and July to September is summer season.  However, demand can shift these months easily so be sure to check this before deciding when to travel. It is also normal to have different pricing depending on which week you book of a particular month.  
As a benchmark, chartering a 3 cabin monohull in the peak season of August for 7 days, you can expect to pay around £3000 GBP.  That means that each passenger would be paying roughly £111 GBP per day. When you take into account the money you would spend on two hotel rooms for your family (or even a suite) for a week, it becomes interesting.  
At the other end of the scale is chartering a catamaran which is more costly.  As a benchmark for a second tier 4 cabin 51 foot catamaran that can fit 12 people during the month of August for 7 days, you can expect the cost to be roughly anywhere between £10,500 – 12,000 GBP.  The rate goes up during the earlier weeks in August and specifically during July as it is peak time for sailing.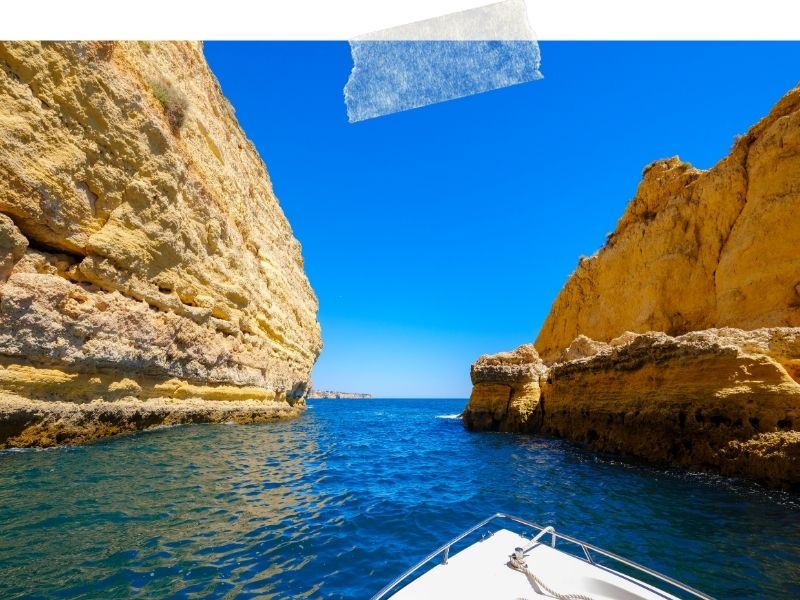 ADDITIONAL COSTS TO CONSIDER
The cost quoted to you will be for the vessel hire and crew (if you have chosen to have them).  There are numerous other costs that you have to be prepared for and consider before deciding if chartering a boat is for you.  Your charter company will likely ask you for a damage deposit and this does vary between companies.  This is in case of any unforeseen damage that occurs while you are in charge of the boat.  It applies more to bareboat option but it can still be required on a crewed vessel.
Most charter companies require an APA (Advance Provisioning Allowance).  This is designed to simplify chartering a vessel by ensuring onboard expenses are covered from the outset.  It is effectively petty cash to be paid up front and it is calculated as a percentage of the charter fee.  Expect to pay 20-25% if you charter a sailing yacht and 30-35% for a motorised vessel.  Again this percentage can increase if you are island hopping or sailing for longer than 4 hours a day due to extra fuel consumption.  Any monies left over are usually refunded at the end of the charter.
According to The Ultimate Guide To Boat Charter In Greece: Part 2, the APA normally includes the following:
Diesel Consumption Charges
There are diesel consumption charges which are dependent on how much usage the motor has had.  These can reach up to 200 euros per week depending on the itinerary and weather conditions.  It is also dependent on whether you use any mortised water toys on your journey.
Food & Drinks
There is the cost of food and drinks for your family and the crew.  It is standard to feed your crew for the duration of your cruise, whether it is on the boat or off.  As many of the boats have well equipped kitchens, it is easy to cook onboard and keep these costs low.
Harbour Fees
You have to pay harbour fees depending on where you stop.  The local governments own the harbours so these fees are negligible.  Your skipper may know some of the harbour masters.   All it may take is a few Greek words and a handshake. 
Communication Costs
The chartering company will estimate and add in any internet and satellite communications you plan to use on your trip.
Cleaning
There are also charges for cleaning the vessel after you have completed your journey.  Cleaning the towels and bedsheets will also be your responsibility unless organised in advance with the charter company.
Along with the above extras to consider, you can leave a tip at the end of your journey.  It is considered good etiquette to give the skipper the tip for the entire crew on the last day of your journey and he will distribute it accordingly. The Mediterranean Yacht Brokers Association (MYBA) have standardised tipping crew.  As a general guideline it falls between 5-15% of your charter fee, depending on the vessel and the location.  However, if you feel the crew have exceeded your expectations then a tip above the standard is acceptable.  
All these extras can add on a significant figure on top of your charter fee.  Be sure to address this with your charter company up front.  They should be able to give you ballpark figures for everything once you have selected your vessel and itinerary.
---
Popular Questions
Listed below in our Ultimate Guide To Boat Charter In Greece: Part 2 are some frequently asked questions.
What is the best age to take children?
Any age! Before we sailed for the first time, I thought we couldn't sail with a toddler but I was so wrong.  Research the boats well and choose the right one for you and give your family as much space as you can afford.
Is it safe for children?
It is always advisable for anyone on a boat to take precautions and follow safety on deck.  Young children, particularly toddlers, should be carefully watched and should always be wearing a life jacket while out on deck.  It is possible to request protective life netting to be used around the boat if babies are on board.  Remember to inform your children to be careful with any electrical items on the boat.
Medical Requirements
The crew have medical first aid knowledge.  A port is never far away with access to a doctor and pharmacies.
What happens if weather doesn't cooperate?
You can move easily into protected waters or adjust your route accordingly.  The beauty of chartering your own boat is that you can change your itinerary as you wish!
What about baby food or milk availability?
Some small islands may not have the specific kind of things you require.  It is best to stock up at your port of embarkation.  
What about other baby kit (baby beds, chairs, etc)?
These generally are not available on the boats.  You and baby will have to adjust to a more natural way of life on a boat!  However it is easy to construct barriers on a normal bed with pillows and cushions where baby can be very comfortable.  Be sure to bring things like nappies/diapers, your own baby monitor if you intend for baby to sleep in their own cabin and any other paraphernalia.
---

Final Thoughts
Now that you have all the information in our Ultimate Guide To Boat Charter In Greece: Part 2, you are ready to plan your incredible adventure.  Sailing the Greek Islands is a journey that everyone should do at least once in their lives to experience authentic Greece full of awe-inspiring sights, delectable food and warm and welcoming people. 

We hope you have enjoyed our Ultimate Guide To Boat Charter In Greece: Part 2.
Be sure to check out our 13 Tips For A Family Sailing Holiday In Greece.