April 19, 2021
Post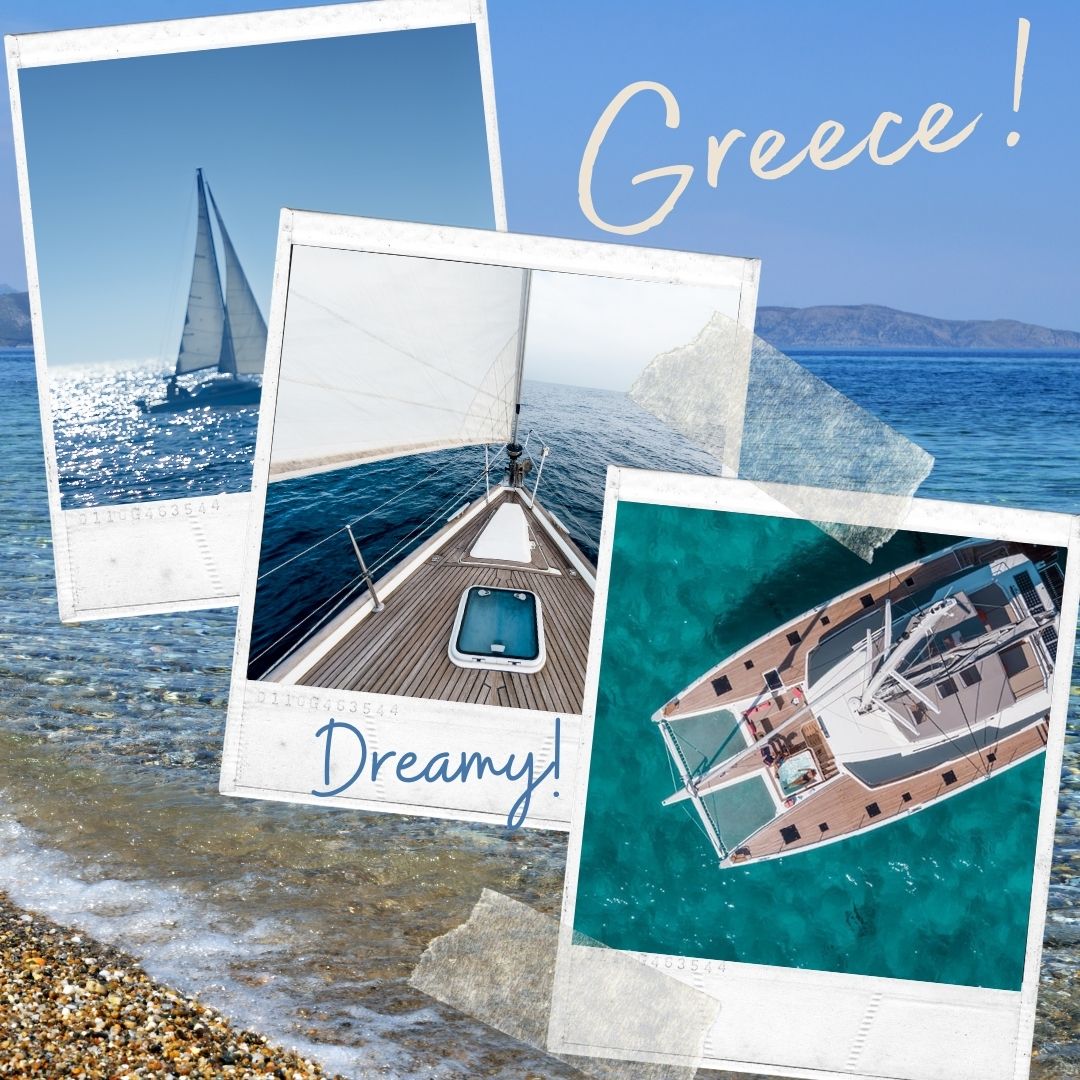 Have you ever dreamed of island hopping in Greece but thought that sailing was cost prohibitive, or only for the experienced?  Or maybe you're discouraged by the minefield of information out there?  We are here to help dispel the myth of private chartering through The Ultimate Guide to Boat Charter in Greece Part 1 and give you all the information you need to make your dreams a reality!
Not only can chartering your own boat be affordable, it can also be a totally unique holiday where you set your own itinerary and visit magical places steeped in history and mythology.  Imagine swimming and snorkelling in crystal-clear waters, sunbathing on pristine beaches, discovering medieval castles and ancient temples, exploring charming villages where time stands still and dining in cosy tavernas or even under the stars.
---
History
Having a holiday on an ocean-going vessel has long been associated with a privileged life of wealth and luxury.  The origins of private sailing began with King Charles II in 1661 when he sailed the River Thames purely as a leisure pursuit.  This elevated the activity beyond being a simple mode of transport and unfortunately this image still remains today.  Up until a decade ago, prices were very high, making it inaccessible to many.  But in recent years, prices have come down as demand has increased, making it an ideal holiday choice for families.  
The concept of sailing, being close to nature and the sense of freedom it brings is very much a growing trend in the travel industry.  As people's perceptions of travel change, we believe there will be more demand for bespoke and private experiences.  Chartering a boat fits the bill perfectly.  Whether you decide to go bareboat (sailing your own vessel), skippered or fully crewed, the experience will certainly be an unforgettable one.
Learn everything you need to know with our Ultimate Guide To Boat Charter In Greece: Part 1 and Part 2!
---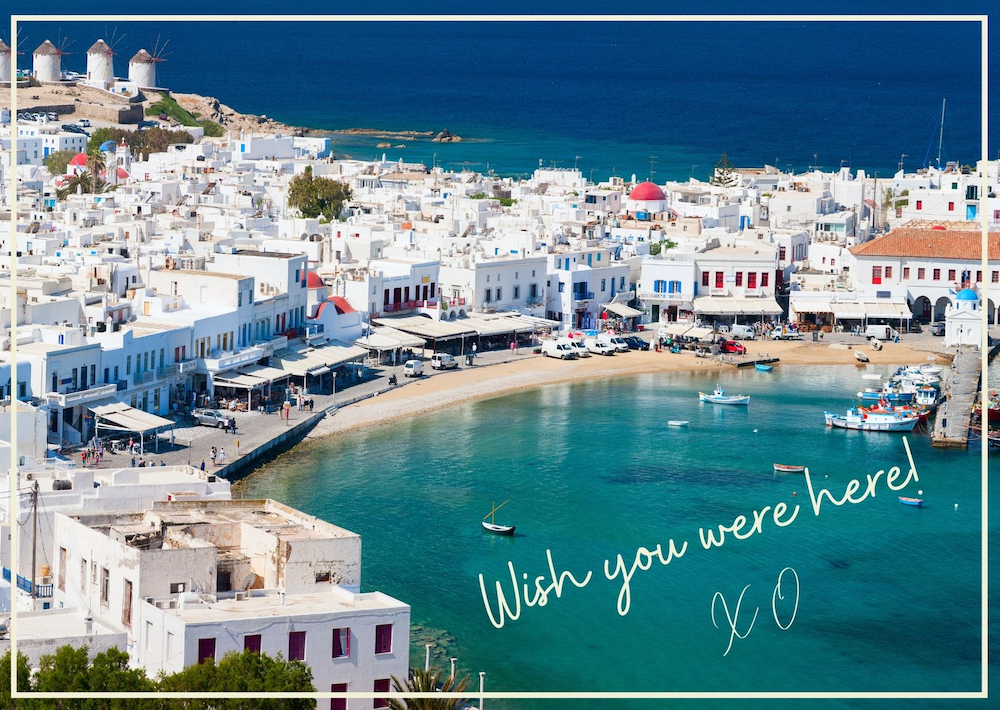 ---
Why

Go
The Greek archipelago has always been an attractive environment and is suitable for both novice and experienced sailors.
Explore uninhabited islands, discover ancient ruins and learn how mythology shaped the islands you are visiting. Swim in secluded alcoves from your private boat, delve into ancient pirate caves accessible only by sea and stumble upon villages with sugar cube houses and magical blue-domed churches. Experience a phenomenal night sky twinkling with endless stars and planets, a sight rarely seen today.
If that isn't enough, consider how educational the entire experience is for children.  They will learn about sailing, teamwork and discipline on a vessel.  As there is constant entertainment by visiting a new island everyday, they will learn about the geography of the area, geology since many islands are volcanic, the mythology that shaped these islands along with Greek history.
In this Ultimate Guide To Boat Charter In Greece: Part 1, you will find the information you need to choose the right islands for your experience.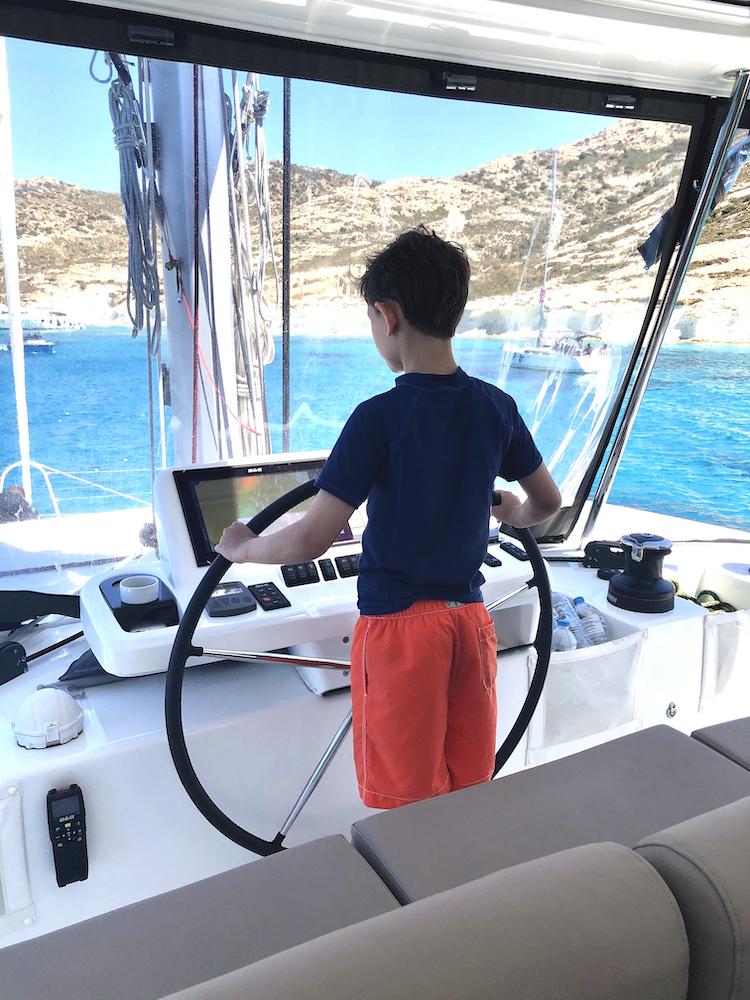 ---
The Reality
Sounds amazing so far?  It is in so many wonderful ways but there is also a realistic side to this dream.  
The best comparison to life on board a boat is similar to camping or an RV holiday. Being close to nature in a restricted space, the freedom to move where you wish but having fewer comforts is the reality of it.  Fresh water supply is limited so you have to be careful not to waste it until you reach the next marina or harbour.  
Boats are small confined places where space and privacy are limited.  It is crucial to share the tasks on board that need to be completed.  Be sure to divide up any tasks according to everyone's ability (anyone who has a tendency to get sea sick should stay on deck or as high up as they can).
Sea sickness is very much a reality for many.  Ensure all necessary medication is packed before embarking on the journey and be sure to bring enough supply.  Overall, if children are sea sick they tend to be sick at the very beginning of the journey and adjust very quickly.  Adults on the other hand take that little bit longer for adjustment!  
If travelling with others or another family, be sure to choose your travel companions wisely.  You will be in close contact with them for the duration of your trip. 
The secret to a successful trip is having a good group dynamic
which will ensure you have a great atmosphere on board.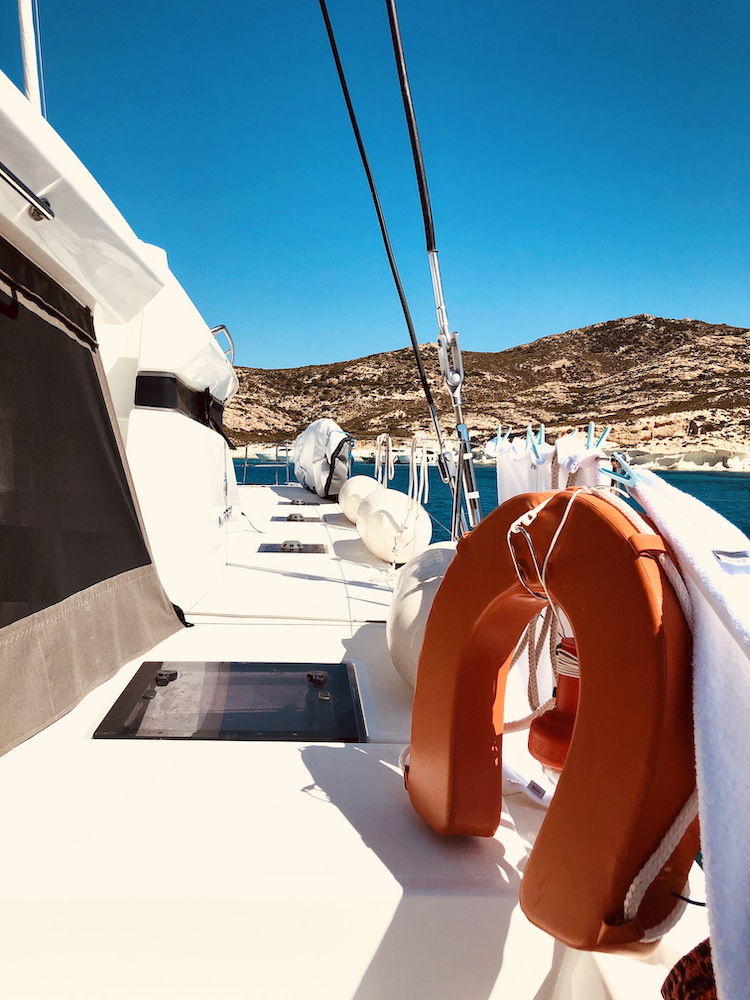 ---
Before Planning
There are some points to keep in mind and some important decisions to make before contemplating boat charter in Greece.  In The Ultimate Guide To Boat Charter In Greece: Part 1, you will learn about everything you need to know before booking.
Flexibility
The very nature of sailing means that it is entirely weather dependant.  Being flexible is imperative to a successful trip.  No matter how much you would like to visit a specific island, you may not be able to do so because of strong winds.  Winds can alter your itinerary during certain times of the year so you must be aware the time you are travelling and the weather associated with it.  If you have a skipper, they will be able to guide you on a safe route and maximise your time.
Sailing Hours
Consider how many hours you actually want to spend sailing as this will assist in your itinerary planning.  The longer you spend sailing, the less time you will have for other activities such as swimming, beach time, sightseeing, etc.  For those travelling with children, you may want to minimise the time spent sailing by doing any longer sailing times during very early mornings so the rest of the day is free for activities.
Being Realistic
Sailing is a relaxing slow paced way of travel.  It is likely very different from any other journey you may have had as a tourist.  Sailing is very much about enjoying being on a boat and enjoying the sea and all that comes with it, including the weather.  If you are intent on visiting as many islands as possible on a time table then you may want to reconsider whether sailing is the best option for you.  Realistically you can expect to visit about 5 islands in a week depending on how much you want to do on each island.  There were quite a few islands we wanted to spend more time on during our journey and we ended up adjusting our itinerary!  The beauty of having your own boat is that you can adjust your itinerary as you travel giving you an incredible sense of freedom.  
On Board
Should you decide to have a skipper on board, they should be able to assist with activities on each island.  Check this with the company you are chartering your boat from.  They can point out the best shopping areas, museums to visit, restaurants to dine in, or any water sports you may wish to participate in such as diving, snorkelling, fishing, canoeing, kayaking,  etc. Whilst on board, you should be able to obtain all the services you would achieve from any luxurious stay.  Many catamarans already carry numerous water sports equipment on board so be sure to check what is available to you.
Also decide whether air conditioning is important to you and your family.  Many of the older boats do not come with air conditioning at all so this will indicate whether you need to look for a newer model (up to 4/5 years old) or a slightly older model.
Dining
Consider if you wish to stay on board for any meals.  The kitchens on boats are usually very well equipped and it is extremely easy to dine aboard. Be sure to check with your charter company what equipment is available in the kitchen in advance.  Enquire how to order provisions before your arrival on board so you are ready to sail upon boarding.  Dining on deck  under the moonlight and surrounded by the sparkling sea is a special experience.  If you really wish to go all out, you can also hire your own private chef for the journey who will cook whatever you want whenever you want.
Do bear in mind that part of your Greek experience should include sampling the amazing food on the islands.  Food helps create memories in children and adults so it would be a real shame to miss this wonderful opportunity.  Imagine visiting charming little Greek tavernas while dining outdoors under a canopy of colourful bougainvillea with many overlooking the dazzling blue sea.  It's an experience not to be missed!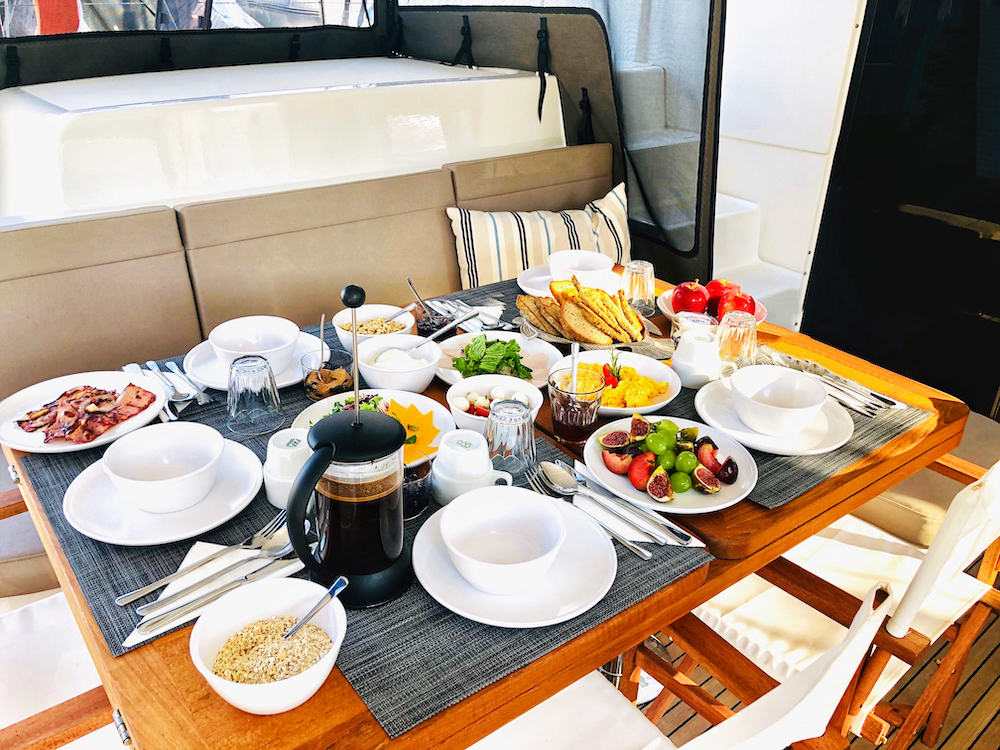 Costs
This subject alone tends to put people off the idea of sailing the Greek islands.  Many believe it is unattainable and not affordable.  Before you even look at the price of a specific sailing itinerary, I would suggest you cost it up as if you were land based.  This should include accommodation, meals, transportation, ferry costs, etc. Once you have this cost you can then compare it against the cost of chartering your own boat.  This is purely to get a realistic comparison between both options and it should also show you that it is possible to have an affordable chartered holiday.  Many people make the mistake of looking at a charter cost first without having anything to compare it to. They will come to the conclusion it is expensive.  As a result,  they will book a land-based holiday the money will be spent on anyway.
Remember the benefits of having your own charter.  There is the chance to explore stunning uninhabited beaches. Be able to swim in crystal clear waters wherever you wish.  Experience sleep under the starry sky and visit whatever island you wish whenever you want.  Through The Ultimate Guide To Boat Charter In Greece: Part 1, you will realise the benefits to this incredible experience.
---
When To Go
Choosing the time of year for your charter holiday in relation to the area of Greece you want to explore is imperative to the success of your trip and we explain this in The Ultimate Guide To Boat Charter In Greece: Part 1. Weather plays a huge role here and you need to be aware of annual high winds called the meltemi.  The windier the conditions, the harder the sail.  If you are prone to sea sickness then it is best to aim for calm seas with very low winds.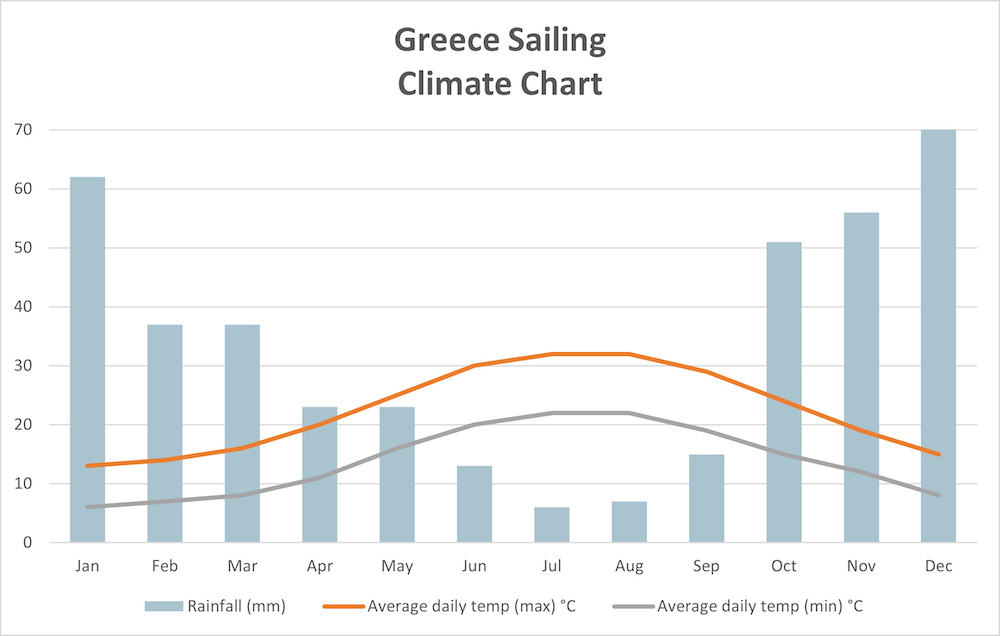 Generally speaking, the most popular times for sailing in Greece occur from May through to end of October.  However, some areas are more prone to high winds at certain times than others.  April is the start of the season and whilst it is possible to sail at this time, be prepared for chilly days and nights.
---
Itinerary Planning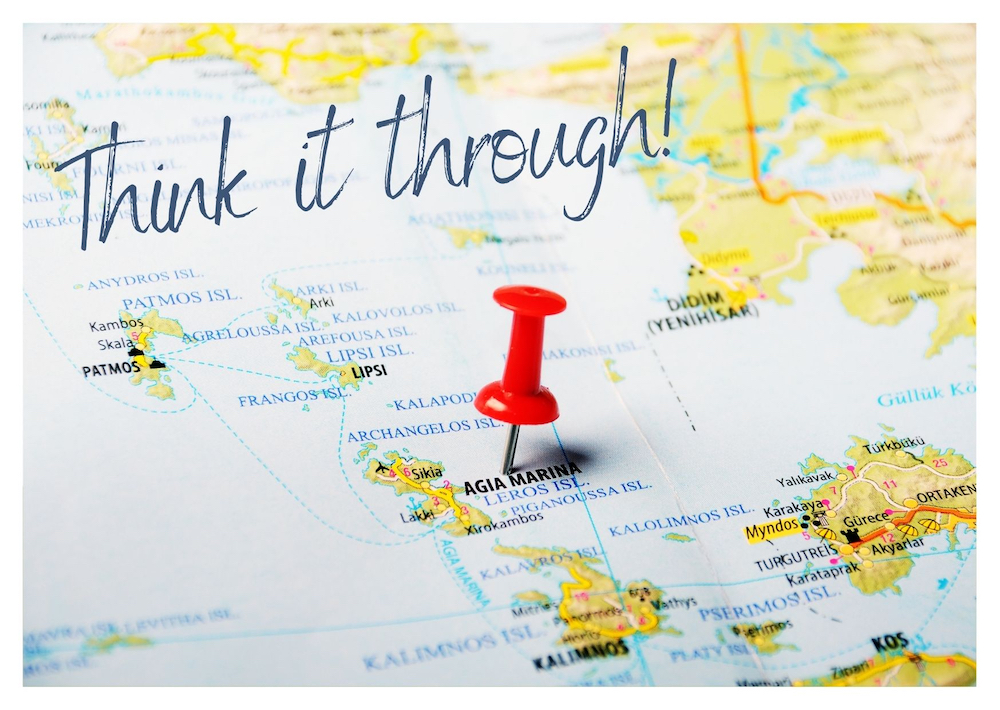 Travelling by charter boat gives you the opportunity to live in a postcard.  All those charming white washed villages framed by trailing bougainvillea on a glorious background of the deep blue sea are there waiting for you to explore!  
Now here is the fun part!  Putting together an itinerary is just as exciting as exploring these new islands.  There are some basic areas of Greece which we explain in The Ultimate Guide To Boat Charter In Greece: Part 1.
Here is a suggested check-list to follow:
1) Choose which area of Greece you wish to explore.
2) Select which port you would like to depart from (Athens, Paros or Santorini).
3) Include your selection of islands in your itinerary.
4) Research sailing times.
There are six main areas in Greece that are ideal for a sailing holiday.  These include Cyclades, Dodecanese, Ionian, Argo-Saronic, Sporades and Gulf of Corinth.  The North Aegean also has islands but the distances are vast and may be challenging to accomplish on a short voyage.  Be sure to research the islands individually and plan which ones you wish to visit.  The other aspect to consider is sailing time between islands.  This is particularly important if you want to maximise the number of locations you visit.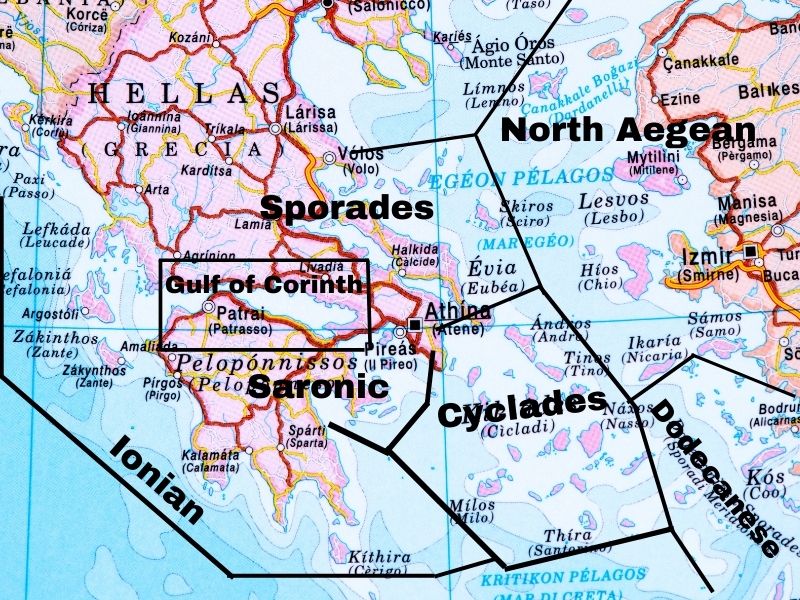 ---
The Islands

Cyclades (Aegean Sea)
The Cyclades are the most famous islands in Greece.  Traditional white cube houses and blue domed churches pepper the hills in the distance.  Set against the deepest blue seas you are likely to ever see, this scene is the epitome of Greece.  Situated in the Aegean, they comprise the largest numbers of islands in a group.  These include Kea, Kythnos, Syros, Tinos, Mykonos, Naxos, Paros, Anti Paros, Serifos, Sifnos, Amorgos, Ios, Milos and Santorini.  The most famous in this group are Naxos, Mykonos and Santorini.  Besides these, there are countless uninhabited islands to explore also.  
Many of these islands are volcanic in origin.  You can expect to see rocky and dry terrain that is continuously exposed to sun and wind.  The flora and fauna of the islands is limited to those plants and animals that can survive such weather conditions, making these islands a fascinating experience to visit.   
Where To Start
You have to first decide where you want your starting point to be.  Popular choices are Athens, Paros or Santorini.  As some of these islands can be quite far from each other (4-5 hours sailing time), it is best to restrict the number on your itinerary so that you have time to enjoy the ones you really wish to visit.  If starting your sailing adventure in Athens, a popular route includes Kea, Syros, Kythnos and Mykonos.  Sailing further west requires a bit more sea-worthy experience but a good route is Kea, Kythnos, Serifos, Sifnos and Milos.  
Basing yourself in Paros is an excellent alternative as many islands are easily accessible from there.  The island is centrally located in the Cyclades so your options from here are numerous.  If you are looking for a calm, quiet sail with stunning beaches and an intense night life then a route in the smaller Cycladic islands such as Paros, Ios and Mykonos is a lovely choice.  For those who love archaeology, then a possible route could include Delos, Amorgos, Naxos, Sifnos.  If you are looking to minimise your sailing times then a route that takes you from Paros to Antiparos, Naxos, Kalandro, Koufonisia, Amorgos and Iraklia will have you spending 3-4 hours maximum sailing daily.  The choices are endless so it is best to read The Ultimate Guide To Boat Charter In Greece: Part 1 and decide what you would like to do!
---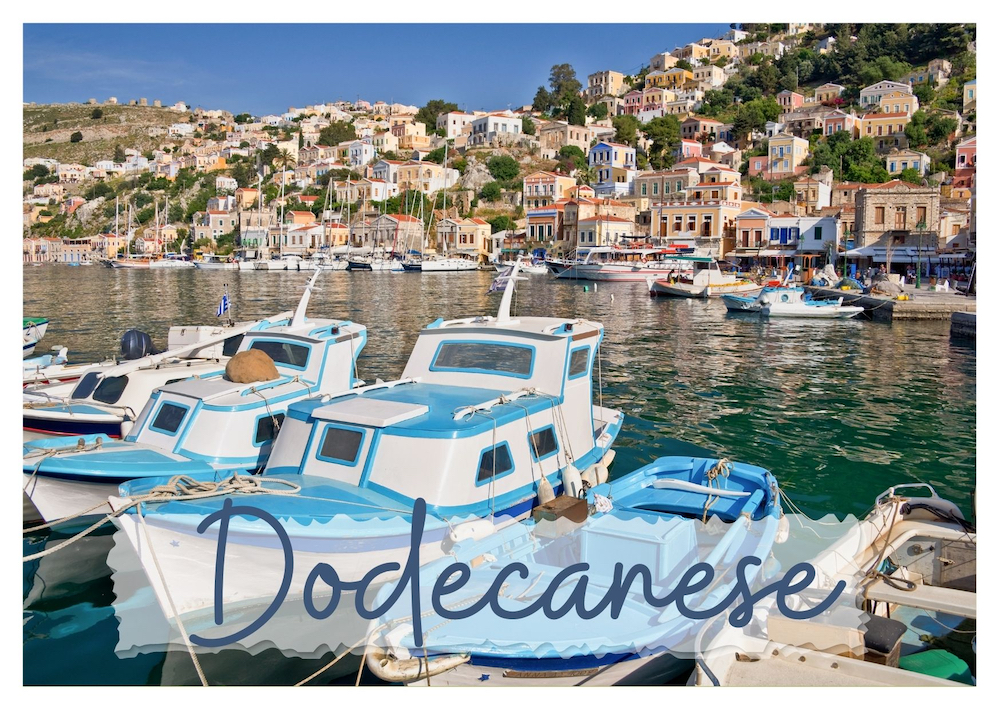 Dodecanese Islands
These stunning group of islands are in the southeastern Aegean Sea closest to Turkey.  They are well known for their glorious beaches, crystal clear water, incredible archaeological sites, Byzantine churches and medieval castles.  The literal translation of Dodecanese is "12 islands" although there are 16 inhabited ones and numerous smaller ones adding up to 27 in total.  
The Dodecanese are an ideal sailing destination during the summer months.  They are well protected from the meltemi (the prevailing north winds) which tend to affect the central Cycladic islands.  As a general guide, the winds do not exceed 25 knots allowing for easy sailing conditions, particularly in July and August.  Towards the end of August the winds tend to lessen gradually but there is still enough to enjoy a good sailing holiday.  Gusts can get stronger off Patmos, Kalymnos, Kos, Nissyros, Tilos, Karpathos and Astypalea so you want to be sure to be travelling south with the north winds behind you. The sky remains bright with very little cloud.  The region enjoys the longest periods of sunshine with the heat of the summer.  Numerous protected bays offer shelter along with a beautiful landscape make the Dodecanese a top choice for a summer sailing holiday. 
The Dodecanese are for the most part bare of vegetation although not as severe as the islands in the Cyclades.  Several islands have natural springs and are relatively green and wooded like Kos and Rhodes.  They all have a very unique and distinct character of their own due to the influence of Venetian, Ottoman and Italian rulers.  Much of this is evident in the architecture of the islands as well as the gastronomy and language.  
Where To Start
Visit Rhodes and wander down the famous Street of Knights. Encourage your little one to open up their imaginations.  Maybe they can pretend to be a holy warrior in shining armour.  Or perhaps a noble princess making way down the ancient streets.
Visit ancient city of Kos.  Sit under the plane tree where Hippocrates (the Father of Medicine) himself sat, taught his students and examined his patients.  This plane tree is in fact over 2,500 years old and the oldest in Europe!
Your main port of departure will either be Rhodes or Kos.  A one week itinerary from either of these islands could include Simi, Nisiros, Kos, Tilos, and Halki.  If you have two weeks then you can include other islands such as Leros, Patmos, Lipsos, Levitha, Kalimnos, Astipalaia and Lindos islands and even some of the Cycladic islands such as Santorini, Folegandros, Ios, Amorgos, etc.
If you are considering visiting any of the Turkish waters by sea, you will need a special permit.  You may need individual visas also so be sure to plan this well in advance.
---

Argo-Saronic Islands
The Argo-Saronic are a group of beautiful islands that are closest to Athens on the east side of the Peloponnese coast.  Some islands include Spetses, Hydra, Aegina, Methana, Nafplion, Alimos, Poros and Epidavros.  Aegina is like an Athens suburb on weekends as it is closest to the mainland.  Poros, Hydra and Spetses get extremely busy in the summer.  Hydra and Spetses are only accessible by hydrofoil and catamaran so as a result, they are more expensive and upmarket. These islands are best off season or during the week when it is more quiet. 
These islands are very popular during the summer.  They offer very easy sailing conditions with low winds and calm seas. This makes them a great area for beginners, particularly those intending to go bareboat (sailing your own vessel).  It is also a popular area during early spring months and autumn season as the weather remains stable.  
These Argo-Saronic Islands are rocky and partly volcanic, each being very different from another.  Here you will come across green forests as well as islands that are completely infertile, relying entirely on water to be piped or transported from the mainland.
In terms of history and mythology, these islands can't be beat.  Explore an ancient open air theatre at Epidavros, discover the homeland of the great heroes of Iliad, Agamemnon and Menalaus. You can even tour ancient Olympia, scene of the ancient Olympics.
A trip around the Argo-Saronic is a trip through history, a must-do for any Greece sailing holiday.
---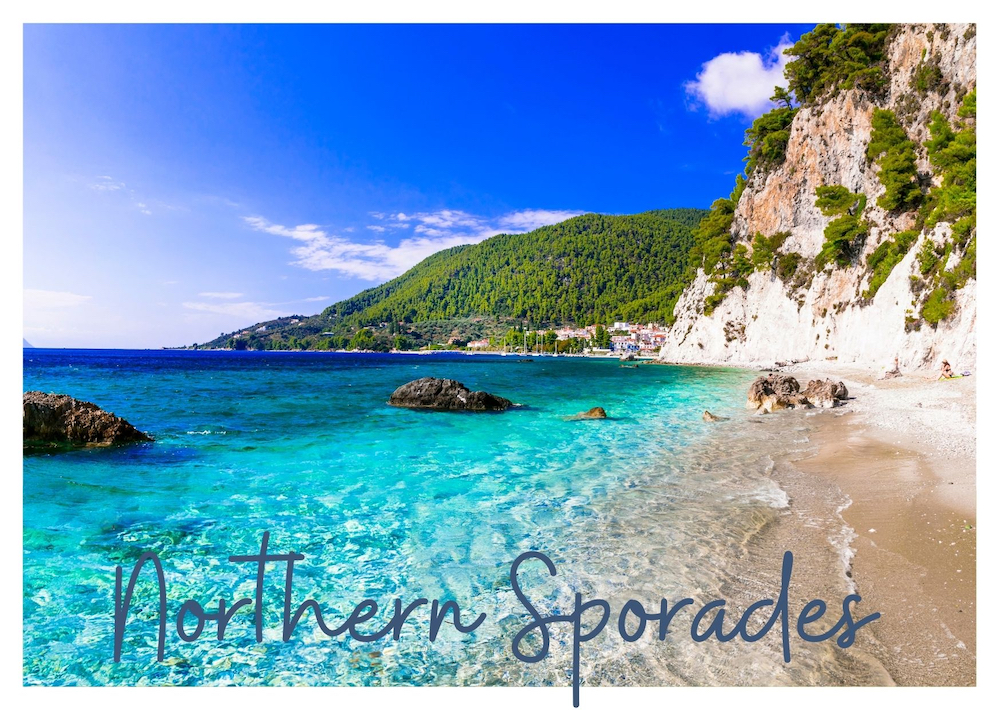 Northern Sporades
One of the best sailing destinations in Greece is the area of the Northern Sporades.  Many people will recognise the stunning scenery from the 'Mama Mia' film.  The Sporades consist of scattered and remote islands that have remained fertile, specifically the islands of Skiathos, Skopelos, Alonissos, Skyros, Pelagos or Kira Panayia.  There are also a number of uninhabited islands in the area just waiting to be explored.   
The Northern Sporades are as famous for their stunning scenery as for the amount of secluded coves to drop anchor.  With the exception of Skyros, the northern Cyclades boast an entirely different architecture to other regions.  Here you will find influences of Macedonia and the adjacent mainland.  The houses consist of flower filled verandahs, balconies and courtyards surrounded by whitewashed steps and narrow stone built alleys.  Most of the Venetian architecture has long been destroyed primarily due to earthquakes but you can still see some evidence in places.  Skyros manages to retain Cycladic influences with cubed white-washed houses.
Your main port of embarkation will likely be Skiathos as it has a small airstrip.  From here you can explore numerous islands.  The area is recommended from novice to experienced sailors as at times it can be quite challenging to sail these islands even though they are fairly close together.  The meltemi winds can increase at times during the summer months.  If travelling during spring and autumn, the 'sirrocco', a southerly wind, can also be a challenge to deal with.
A one week itinerary can include Panormos, Skopelos, Alonissos, Steni Valla.  A two week itinerary can include additional islands such as Pelagos, Skiros, Kia Panaghia, Peristera, Halkidiki.  Many of these islands remain uninhabited.
---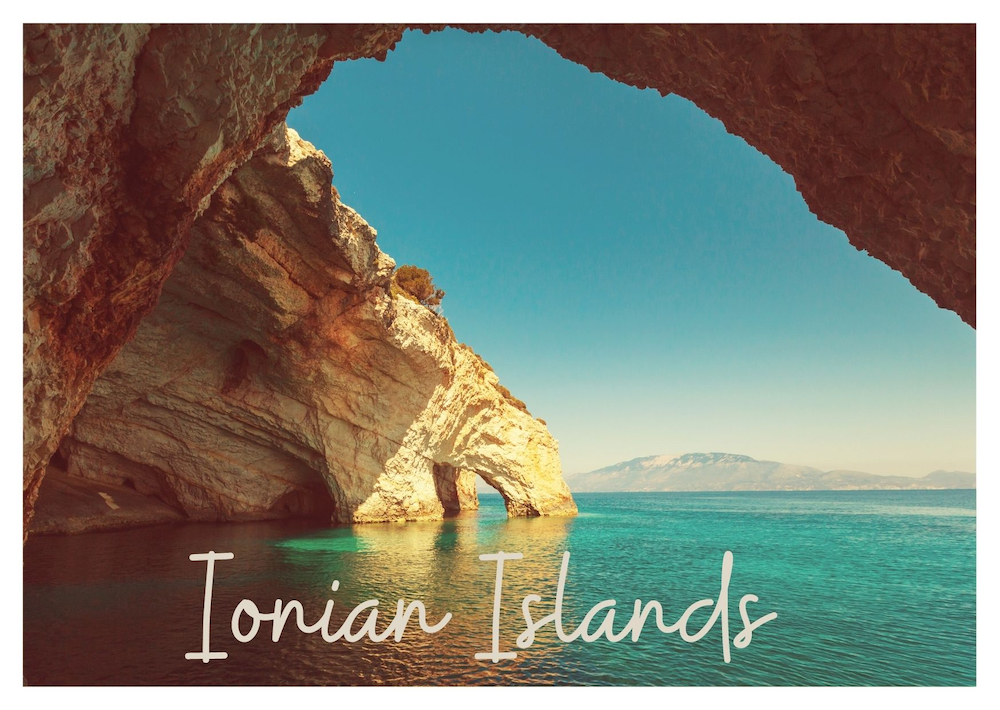 Ionian Islands 
Follow the legendary wanderings of Odysseus from Homer and explore these magnificent islands steeped in history. Situated off the west coast of the Greece, the Ionian Islands are a firm favourite for a summer sailing holiday.  The weather remains stable, providing consistently calm seas with a light breeze.  The sailing routes in between the islands are not long making them an ideal choice for both long and short itineraries.
Distinguished by their turquoise waters, Venetian architecture and verdant vegetation, these islands are a stunning and unique place to explore.  The impact of nearby Italy is instantly obvious as the Venetians captured and influenced much of its architecture.  As a result, the villages, the gastronomy as well as the mentality of the locals reflect a special character, echoing an aristocratic finesse unique to the Ionian Islands.  
Every island offers something different.  There is mountainous scenery and verdant landscapes.  The richness of the blue water meets the evergreen forests and creates scenery which is uniquely Greece.  You will soon believe, much like Odysseus, that this is paradise on earth.  Odysseus took 10 years to return to his beloved Ithaca but his determination never faltered as it was the place of his dreams.
There are two main bases for sailing out of in the Ionian Islands.  These are the islands of Corfu and Lefkas (Lefkada).  Starting from these bases, you can visit numerous islands such as Kefalonia, Zakynthos, Paxi, Ithaca, Kythera, as well as tiny islands such as Mathraki and Meganissi, Othoni, Erikoussa, Kastos and Kalamos.  There are Ancient Greek temples to discover, abandoned medieval ruins to explore, olive groves to meander through, ancient villages to get lost in and crystalline water in various shades of turquoise, sapphire and emerald to tempt you.  
---

Gulf of Corinth
If you wish to extend your sailing holiday or just explore this area on its own, the Corinthian Gulf makes for a fascinating visit.  The Gulf of Corinth is a deep inlet which is part of the Ionian Sea, separating the Peloponnese from western mainland Greece.
Visit ancient ruins in Corinth, explore one of the most expensive canals per mile in the world.  Visit the famous site of Delphi and the World Heritage site of Asklepieion from the 3-4th Centuries BC.  You can also visit the ruins of the mighty citadel of Mycenae where Homeric legend and history merge.  If Hercules is your main interest, then exploring Corinth in more depth is advised.  Visit Nemea where Hercules killed his lion or Lake Stymfalia where Hercules, in his sixth feat, slew the man-eating birds with bronze wings and beaks that inhabited the marshes there.  It is all there waiting for you to explore with your children!
To visit the Corinthian Gulf, you can either start from the Ionian Islands or the Saronic Islands further south. Explore places such as Itea, Galaxidi, Delphi, Alkyonides Islands, Corinth, Corinth Canal, Korfos, the Asklepieion of Epidaurus, and Mycenae. Western Greece is a place of rich archaeological sites.  This area is sure to bring you closer to the myths of Odysseus and Hercules.
We hope you have enjoyed reading The Ultimate Guide To Boat Charter In Greece: Part 1.
Now that you know the what and where, it's time to read on and find out the how.
Don't forget to read The Ultimate Guide To Boat Charter In Greece: Part 2!
Before heading out on your adventure, why not pay a visit to Athens and explore its archaeological wonders?
Read More: Family Travel Guide To Athens