April 19, 2021
Learning Adventure
The first time we hear them echoing in the distance it sends our hearts racing.  "Haa-roooo, ha-roooo!"  The magnitude of that sound makes us shiver.  There is something pack-like and primeval about it.  Perhaps it triggers memories of folktales from childhood or stories from the big bad wolf from Little Red Riding Hood.  Whatever it is, the wolf-like howling sets our stomaches aflutter in anticipation of what lies ahead.  We are off to experience the quintessential dog sledding adventure in Whistler through the surrounding untamed wilderness.
---
Educational Insights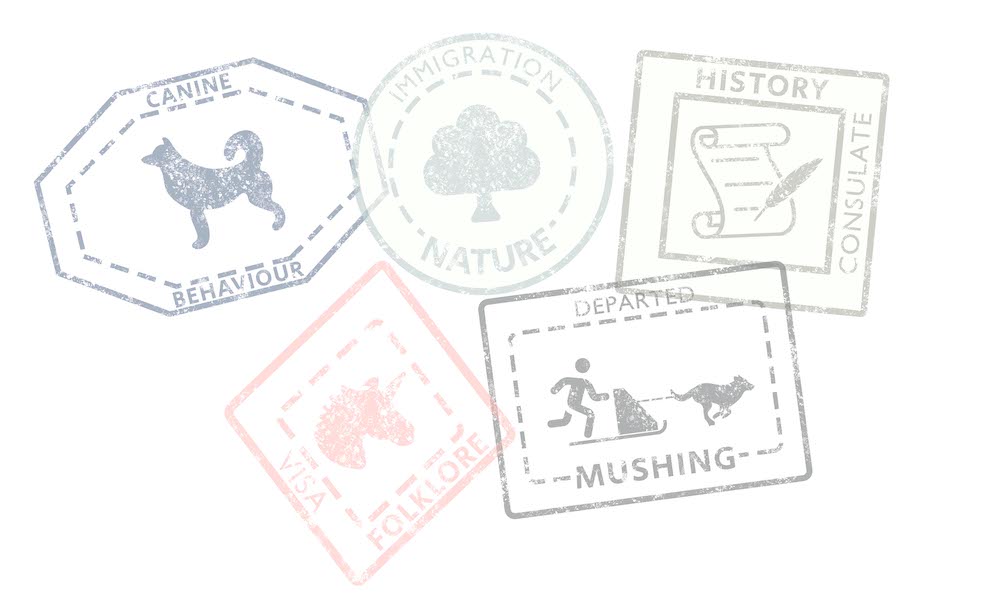 ---
There Be Wolves
On our way there, we discuss Little Red Riding Hood with our son as written by Charles Perrault in the 1600s.  One can trace the story back to the 10th century to several dark European folk tales. The best known version is the French one written by Perrault.  The idea that echoes most in any child's head is in Perrault's words:
"And, saying these words,
this wicked wolf  fell upon Little Red Riding Hood
and ate her all up."
It is the long, guttural cacophony of sounds that brings this fairytale to the forefront of our minds.  Our excited apprehension quickly swings us back to reality.
---
Trappers Run
Canadian Wilderness Adventures provides a tour called Trappers Run and our dog sledding adventure in Whistler starts here.  We will be learning from a professional musher.  Activities will include harnessing and staging the dogs, learning the commands and finally feeling the thrill of driving our own team.  Furthermore, we will experience the rich history, culture, and techniques of dog sledding as we glide through the awe inspiring magnificence of the Callaghan Valley.
---
The Thoroughbreds
As we approach the clustered huts amongst the trees, we are heartened to see dogs, not wolves.
There are dozens of feverishly excited dogs jumping in a frenzy
raring to go like thoroughbreds at the start line.  
These dogs are like no other we have ever encountered.  Whilst they look like they could be domestic dogs, their behaviour is almost feral.  Above all, their movements are restless and we can feel how fiercely powerful they are when they leap at us in their enthusiasm.  My husband and I are both dog lovers.  However, our five year old son is a bit unsure of the frenzied behaviour.  The dogs mean no harm whatsoever.  If you can bypass the chaotic energy, they are very sweet and loving.  Besides being desperate to run, these dogs just want to lick us to death!
---
Furry Friends
Spending time meeting and getting to know the team of dogs that will lead the sled is a real highlight for us.  We challenged each other to try remembering all the dogs' names.  Every single one of these furry friends will be a crucial part of the team and we love getting to know each and every one of them.  Our son's initial trepidation is soon dissolved and he is won over by their exuberance and friendliness.
---
Dress
Once acquainted with the dogs, our musher prepared a low-slung sled for us and ensured we were dressed appropriately.  In advance of our arrival, we were advised to wear something we are not precious about.  The dogs do jump up and there is a risk of smelling like a dog kennel so be sure it is washable.  The team there are happy to provide coats and gloves to exchange for my own.  I was pleased at the end of the experience that I did so as it meant I didn't have to worry about my clothing.
---
Harnessing and Hooking
The dogs knew they were being prepared for a journey.  Their excited fervour reached a crescendo as we attempted to ready the dogs by harnessing and hooking them up to the sled.  This was a task easier said than done but the musher did this effortlessly, years of experience on his side.
We settled ourselves inside the cozy sled piled high with blankets.  Weight distribution is a consideration as the dogs need to be able to pull evenly.  After assuming our positions and cocooning ourselves in cosy blankets, we were ready to set off.   The team made themselves ready as if preparing to take off in flight.  If I didn't know any better I would have thought we were on Santa's sleigh, ready to float into the sky pulled by a team of reindeer.  However, the thought of trying to control these powerful canines was indeed daunting.
---
Hounds From Hell
We are ready to go and with a loud resounding, "Hike!" the guide shifted his weight and the sled jerked forward at break-neck speed.
The dogs sped off in unison pulling us effortlessly
through the powdery snow like hounds from Hell.  
Whizzing over snow banks, we came upon a path through the woods which gently undulated, causing the team to mercifully lope at a gentler pace.  We are surprised just how fast these dogs can pull a fully loaded sled.
The dogs didn't appear to be bothered by any of the banks or bumps in the snow.  As they glided on, the surprising silence was occasionally interrupted by a jingle from the dog collars or a command from the musher.  Before long we are deep inside the snow-covered forest navigating our way through the vast wilderness.  Our son's exclamations of "wow" bring me back to reality.  How often are we pulled by a team of canines through the most stunning scenery?
---
Chaotic Order
Whilst propelling us forward, our musher talks about the history of dog sledding in Canada and how the team is arranged.  The native and Inuit people of Northern Canada developed this mode of transport to deliver food and supplies during winter months.
These northern Indigenous people also developed the dog breeds that pull the sleds.
The breeds were offspring from
domesticated wolves that helped with hunting.  
The Canadian Inuit (Eskimo) Dog which still exists today has a muscular build for pulling large loads over heavy snow.  The Inuit developed the breed in Northern Canada.  We wonder how many of our team are directly descended from wolves and judging by the howling I would say quite a few.
What strikes us most is the pack-like behaviour in these dogs that is still evident while they are pulling.  The first one or two dogs on a gang line are the leaders and guide the team.  The first pair behind the leaders, referred to as "point dogs", encourage the leaders forward.  The two dogs immediately in front of the sled are the strongest of the group and these are called "wheel dogs".  Their job is to pull and keep the sled on track.  In between all these are the "switch dogs" which keep the team on the trail when rounding.  The musher is in control and every single dog has a unique job to do.  There is a natural order in all the chaos after all.
---
Mushing
We finally reach a clearing with a circular track dug out in the snow and it is now our turn to try to tame these wild beasts.  Our son has volunteered to be the driver.  Our musher takes time to explain the various commands and has our son practise them before setting out.  It is clear that both the words used and the ferocity with which they are delivered is key but can these seemingly feral creatures really take their bidding from a five year old?  We soon find out.
We alight from the sled and our son positions himself in the musher's place at the back.  With a firm "Hike!" he shoots off with the sled at breakneck speed.
I would be lying if I said I didn't cover my eyes
with my hands at that point,
images of broken limbs floating through my mind.  
Rounds of cackling laughter gave me the courage to peek through my fingers as our son made his first round on the track, now just a blur of legs and fur.  After a few rounds, we all have a go and experience one of life's greatest bucket list adventures.  It is really quite surreal as the joy of mushing reveals itself to us within the magic of the surrounding forest. Our journey is now complete.
---
Power Of Canines
As we race back to base camp, I discuss with our son how travelling by the power of canines is an exhilarating experience.  The mushing can be both chaotic and serene at the same time, making it one of the most unique experiences for a child.  It is a must-do for anyone who wants to teach their children about the history of dog sledding, how the dogs work together and to experience a classic dog sledding adventure in Whistler.
With over 60,000 wolves still living throughout Canada including British Columbia, our thoughts return to Little Red Riding Hood.  Had she come across our team of dogs with their sharp teeth, I couldn't help thinking that life for her might have turned out differently.
You might like our Family Travel Guide To Whistler.
---
Details
We opted to have our dog sledding adventure in Whistler with Canadian Wilderness Adventures.
Duration: 2.5-3 hours (return trip)
The ideal weight for a smooth ride is maximum 350lbs per sled, therefore keep this in mind when booking.
Children must be at least 4 years old to ride.
Although snuggled up inside a sled, dress warmly, bring gloves and wear winter snow boots.