March 28, 2021
Post
Driving along the Sea To Sky Highway on Canada's Pacific Coast is like jumping into your own personal time machine.  Turning back the dial 15,000 years will have you and your children going back to find the site of Vancouver locked under a kilometre of glacial ice in this Family Sea to Sky GeoTour From Vancouver.
---
Key Facts
Distance: 120 kilometres
Starting Elevation Vancouver: 32 metres (105 feet) above sea level
Finish Elevation Whistler: 670 metres (2,200 feet) above sea level
Duration: Minimum one full day
When To Go: July-October
The legendary BC Highway 99, also known as the Sea to Sky Highway, should be right at the top of everyone's bucket list as it is one of the most awe-inspiring drives in the world.  It runs past shorelines, mountains and lakes starting in Vancouver and up through the mountains of Whistler and Pemberton, passing through the stunning Howe Sound.  During this 120 kilometre drive, the scenery is simply breathtaking.  There are craggy cliffs to admire, glistening eye-catching aquamarine lakes, cascading waterfalls, temperate rainforest and numerous charming coastal communities to explore.
Consider the extraordinary educational value this drive holds for both adults and children.  As you gasp at the stunning scenery and diverse geology, it isn't surprising to hear voices from the backseat asking how the towering mountain summits were formed or how the volcanoes were made.
This Family Sea To Sky GeoTour From Vancouver route begins at sea level and follows the shore of Howe Sound, weaving through the Coast Mountains while climbing through old-growth rainforests.  The end destination will place you in Whistler 670 metres (2,200 feet) above sea level.
Start nice and early as there is so much to see and do.  With so many stops and activities along the way, allow an entire day at the very least to experience all that this Family Sea To Sky GeoTour From Vancouver road trip has to offer.  Stop off at all the points of interest or select your favourites and plan your own route!
---
Educational Insights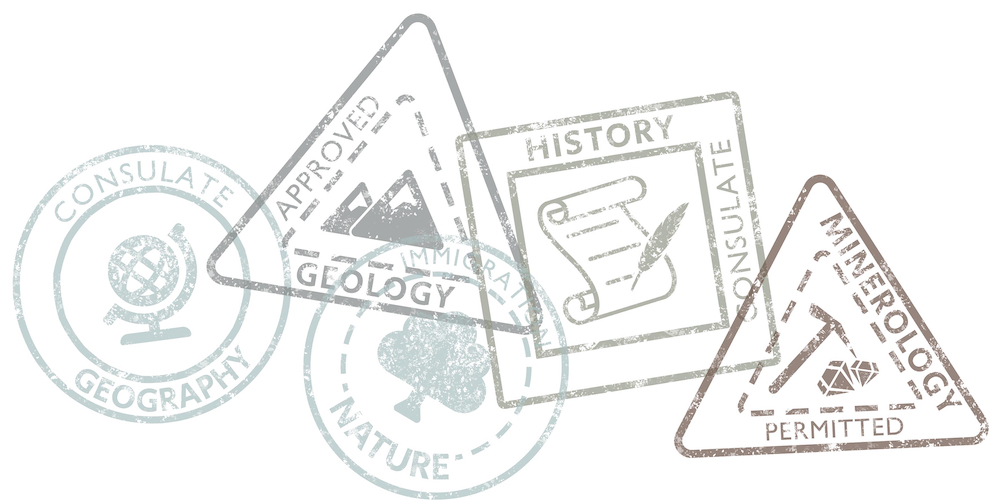 ---
Sea To Sky GeoTour Guide
Natural Resources Canada have a simple but useful guide to the geology and landscapes from Vancouver to Whistler. Called the Sea to Sky Geotour, it is like having your own geologist with you in the car explaining the geological history of the area. The guide offers a very straightforward explanation how the last 170 million years shaped the surrounding land.  It is a wonderful way to introduce children to geology and the history of the Coastal Mountains.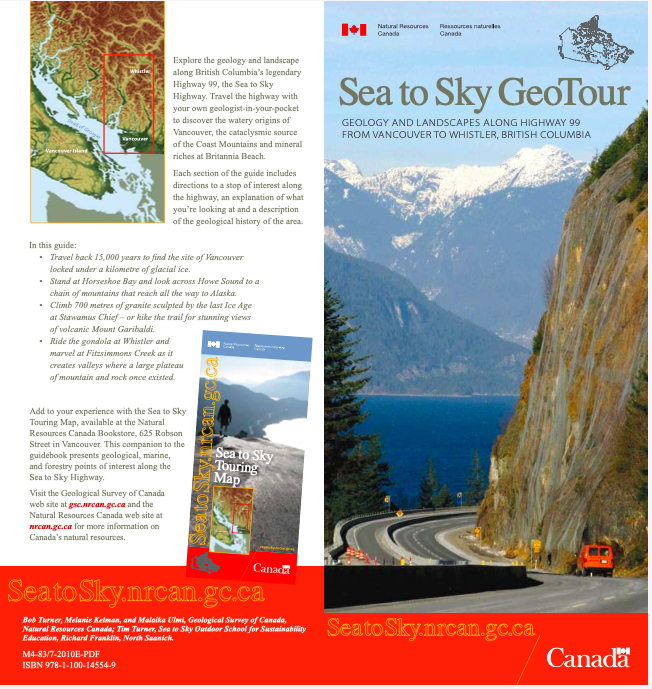 Download your Sea To Sky GeoTour Guide.   It is available both online and in Vancouver bookstores.
Each section of the guide pinpoints a place of interest that allows you to stop and discuss.  Explanations are offered  about the geological history of the area.
There is an accompanying touring map to use in conjunction with the GeoTour.  This can be found in various bookstores in Vancouver so it would be a good idea to pick this up before departing on your adventure.
Listed below are the stops along our Family Sea To Sky GeoTour From Vancouver.  Many of these are recommended by the guide and we have also added a few amazing extras which are our personal not-to-miss recommendations.
We hope you find this guide useful in planning your own Family Sea To Sky GeoTour From Vancouver road trip.  Wishing you a wonderful drive!
---
Itinerary
During the last ice age, Howe Sound was jammed with a glacier that was 2 kilometres in thickness.  It carved out the land underneath which sat far below modern day sea level. As the sea began to rise and the valley's lower areas drained, a magnificent fjord was formed.  Today there are forested mountains peppered with plunging waterfalls that rise steeply above the Sea To Sky Highway to create a stunning landscape.  However, along with these incredible views come the perils of living so close to such splendour.  A large number of rockslides and floods occur here regularly which provide an ongoing challenge for geological engineers whose job it is to keep the road open.
STOP 1: Cypress Mountain Lookout in West Vancouver
Getting There:
Take Highway 1 West through West Vancouver to the Cypress Provincial Park exit (exit 8) along the highway.  The Cypress Lookout parking lot is several kilometres up the hill.
Although this is a slight detour, stopping here is the first chance to appreciate a stunning panoramic view of Vancouver and its surroundings before starting on the Sea To Sky Highway.  Get out of the busy city to admire it from a distance.  At this lookout point, children can learn about the differences between hard and soft rock where the boundary between the two meet.  Behind are hard-rock mountains and in front is the valley formed on soft rock.  Being able to physically see the differences introduces the geology of the area to children in an interactive way.
Be sure to take a few photos, get back in your car and get ready to say hello to the Canadian wilderness!
STOP 2: Horseshoe Bay
Getting There:
If leaving from Cypress Mountain Lookout, make your way back onto Highway I/99 driving northwards.
Take exit two off Highway I/99 and go down to Horseshoe Bay Village.  Aim to find parking near the ferry terminal.  
Driving towards Horseshoe Bay, the Sea To Sky Highway starts to follow the steep shoreline of a coastal inlet, Howe Sound.  
Stop here and take a breath of fresh ocean air.  There is a pleasant waterfront park called Horseshoe Bay Park with interesting views from its busy bay towards the backdrop of Howe Sound and the Coastal Mountains.  Horseshoe Bay is a major terminal for ferries bound for Vancouver Island, the Sunshine Coast or Bowen Island.
Alternatively you could also make your way down Marine Drive towards Whytecliff Park which is home to more than 200 marine animal species and where you are likely to spot sea lions frolicking amongst the rocks.  It also has a playground, lookout point and diving site.  This park is perfect for BBQs and has public washrooms.
The mountain views from here are at the southern end of a chain of coastal mountains that extend from Vancouver to Alaska.  Howe Sound is carved into this mountain chain, flooded by the sea which makes it the southernmost fiord on the British Columbia Coast.
STOP 3: Lions Bay Village
Getting There:
Lions Bay is about 12 kilometres north of Horseshoe Bay on Highway 99.  Take the Lions Bay exit (Oceanview Road). Turn uphill onto Oceanview Road, then left at Crosscreek Road and park just beyond the bridge.  At the bridge there is a path that follows the creek upstream to the base of a dam.  
Lions Bay is perched on a steep mountain slope above the Sea To Sky Highway.  The sleepy village offers spectacular views over Howe Sound.  This is a great place for children to see how living on a steep slope has its hazards from deadly mudslides and floods.
You may pick up supplies here for a picnic or wait until you reach Squamish later in the morning.
STOP 4: Porteau Cove Provincial State Park
Getting There:
About 25 kilometres north of Horseshoe Bay, turn west at Porteau Cove Provincial Park, where you will find a large parking lot along the beach. If you have ended up on Porteau Road you have gone too far. 
Enjoy the views at the ferry dock and spend time at the nearby picnic area.  There are restrooms available here.
This is about your half way point. 
Porteau Cove is one of the most popular stop offs as it is known for its picturesque views, dynamic sunsets, pebbly beach, glistening waters and driftwood playgrounds. Children can explore the shore here and hunt for plenty of sea treasures from shells to colourful sea glass. It is also a great place for eagle spotting or just jump in the water and have some fun.  
There is a campsite here should you wish to turn turn this into an overnight trip.  Porteau Cove is also a popular dive spot.  The cove has a number of artificial reefs just off the shore formed by the intentional sinking of a small ship.  The sea floor here is shallow due to an underwater ridge which stretches from one side to the other.
Seeing the Sea To Sky Highway from this vantage point is a great opportunity to see and explain the engineering ingenuity that went into building the road as it juts out from the perilous side of the cliff surround.   
STOP 5: Britannia Beach and Mine Museum
Getting There:
Britannia Beach sits on the shores of Howe Sound and Highway 99, about 33 kilometres north of Horseshoe Bay.  
This National Historic Site is an incredible place to stop with children.  Easily seen from the Sea To Sky Highway, a historic mill dominates the community which is built in staircase fashion onto the side of a cliff.  The mountain is filled with mine tunnels that once fed ore to the mill when this was once the largest copper mine in the British Empire.
Learn about the area's geology, mineralogy and history.  Explore deep inside the mine by taking a guided mine tour and even pan for gold.  The BC Museum of Mining is housed on the property adding even more educational benefit. This is a must stop on the GeoTour and provides education in an entertaining and interactive way for the entire family. 
Read more about our experience
Deep Underground At The Britannia Mine Museum.
STOP 6: Garibaldi Viewpoint
Getting There:
About four kilometres north of Britannia Beach, along Highway 99, is a broad view of the end of Howe Sound.  A pullout on the oceanside of the highway allows you to stop and enjoy the view.  
A highlight for children is to see a volcano and this one is in a lovely setting.  In the far distance to the north is the looming Mount Garibaldi volcano, jutting out into the sky almost three kilometres above Howe Sound.  As Mount Garibaldi doesn't look like a traditional cone-shaped volcano, its history is an interesting one to go through with children as only half of the volcano is still standing.  An eruption 13,000 years ago built part of the mountain on top of glacial ice.  When the ice started to melt, it undermined the land underneath.  As a result, it triggered massive landslides which flattened one side of the volcano.  You can read more about this volcano in the guide book through our Family Sea To Sky GeoTour From Vancouver.
STOP 7: Shannon Falls Provincial State Park
Getting There:
The access road is at the traffic lights 40 kilometres north of Horseshoe Bay and four kilometres south of Squamish.
You can see Shannon Falls directly from the Sea To Sky Highway.  However, there is a short 10 minute lovely trail walk through a rainforest to a well-maintained viewing platform overlooking this impressive crystal-clear cascading waterfall.  It is 355 metres (1,165 feet) tall and the third highest waterfall in British Columbia. Tumbling down from a valley eroded by a glacier, it is a particularly stunning sight.  It is well worth making the effort to witness and explain to children what a 'hanging valley' looks like.  Explaining how it has developed over the past 10,000 years will keep them enthralled throughout your hike.  This is another lovely place to stop for a picnic lunch and explore some of the network of short trails surrounding the area.
STOP 8: Sea To Sky Gondola
Getting There:
Head North on the Sea To Sky Highway for one kilometre.  Look for the Sea To Sky Gondola sign for the parking lot.
This is a really gorgeous stop along the Sea To Sky Highway and there are two options of enjoying this experience depending on how active your family wants to be.
Option one is hitching a lift 2,904 feet on the Sea To Sky Gondola,  giving your family incredible jaw dropping views over the Coastal Mountains and Howe Sound.  This 10 minute ride will take you to the summit where there is a quick service restaurant, stunning viewpoints and various hiking trails of varying difficulty. There is also the wonderfully bouncy Sky Pilot Suspension Bridge to cross that children will adore.
The other option is to hike up to the summit via the Sea-To-Summit trail.  The hike is 7.5 km one way with a 918 metre elevation gain which can be completed in 3-4 hours hiking time. This option will use up a lot of your road trip time but hiking to the top is a reward in itself.
Whichever way you choose to go, this stop is not to be missed!
STOP 9: Squamish
Getting There:
A few kilometres north on the Sea To Sky Highway.
Located 50 minuted from Vancouver, Squamish is an old mill town now known as the 'Outdoor Recreation Capital of Canada' and less formally as Whistler's little sister. 
If staying overnight, Squamish has a multitude of options from hotel, B&Bs to rustic cabins.  The town is filled with charming locally-owned restaurants making it a great place to stop for lunch.  If you are passing by on a Saturday, check out the Squamish Farmers' Market which has numerous vendors and food trucks selling delectable food which is ideal to pack up for a picnic or snack.  The Farmers' Market is located in downtown Squamish, a left-hand turn at the Cleveland Avenue intersection of the Highway just after the Squamish Adventure Inn.
Numerous adventure activities are on offer here such as rafting, climbing, biking and hiking.  A must-do activity is to visit the 2,000 feet tall Stawamus Chief granite monolith nearby which is one of the largest in the world.  This hike is around 4km return trip at a 540 metre elevation gain which should take around 2-3 hours.  The parking lot for The Chief is just past the parking area for the Sea-To-Sky Summit before you reach Squamish.
STOP 10: Brohm Lake
Getting There:
Brohm Lake is on the left side of the highway heading north from Squamish about 15km (15 minutes).  Drive past Alice Lake Provincial Park and about 1km past signs for Cat Lake.
Brohm Lake is another lovely stop off for a pleasant picnic lunch and swim in a crisp wilderness lake.  After dining on your Farmers' Market goodies, jump in via some insane rope swings or for the more daring, jump off the 15-65 foot cliffs and be sure to catch it on video!
STOP 11: Tantalus Viewpoint
Getting There:
There are two viewpoints, one on each side of the Sea To Sky Highway.  
Northbound Viewpoint: about 16 kilometres north of downtown Squamish and is high above the highway.  
Southbound Viewpoint: a roadside pullout with an additional view down the valley to Squamish and Howe Sound.  
The Tantalus viewpoint is a beautiful and dramatic panorama of the glaciated peaks of the Tantalus Range.  Here is an opportunity to discuss with children the story of rising mountains and retreating glaciers.
STOP 12: Garibaldi Lake
Getting There:
Head north from Squamish for 37 kilometres and look out for the Garibaldi Provincial Park sign on your right.  Just over Rubble Creek Bridge you will take a right onto a small paved road that is easy to miss so keep on the lookout. Continue for a few kilometres until you reach the parking lot.
Although this stop is a slight detour, it is one worth taking.  Located just 1 hour 15 minutes from Vancouver, expect to experience numerous stunning scenic hikes.  Any of these trails will give your family surreal views over brilliant aqua blue alpine Lake Garibaldi framed by sharp snow capped jutting mountains.  The epic scene from the Panorama Ridge Hike will truly take your breath away and is certainly one for the bucket list.  This 12km (return) hike should take about 5 hours in total if starting at Garibaldi Lake Campground but add extra time for rest stops and sightseeing. If starting from the Rubble Creek parking lot, this hike will take 10-12 hours.
STOP 13: Brandywine Falls Provincial State Park
Getting There:
The well marked turn-off to Brandywine Falls Provincial State Park is about 40 kilometres north of downtown Squamish and 10 kilometres south of Whistler.
From the parking area there is a quiet trail over a stream.  This trail leads through a forest to a viewing platform positioned over a spectacular 66 metre (216 feet) waterfall called Brandywine Falls.  It should take about 15 minutes to walk the wooden boardwalk to the falls.  A deep canyon cut through layers of lava rock is clearly visible. Be sure to get off the beaten path and continue down the unmarked path taking you to the base of the falls.  This excursion makes for some spectacular photos!
Here you can show children physical examples of lava rock fractured into rough columns which will leave them fascinated.
STOP 14: Whistler Train Wreck
Getting There:
Heading north on the Sea To Sky Highway from Brandywine Falls you will come to a set of traffic lights at the Function Junction intersection.  Turn right and follow Cheakamus Road and across a small bridge.  Turn right again onto Jane Lake Road and look for the trail on the right. 
The walk is a short 1km wander to the train wreck across Cheakamus River on a newly built suspension bridge which is sure to delight children. Follow the Trail Map.
This is an incredible spot to explore and the train wreck will fascinate children on many levels.  The wreck itself was dragged here back in the 1950s before Whistler even existed.  The area's top urban artists have decided to use this wreck as their canvas, creating some incredible artwork to discover.
The eerie train wreck decorated with urban art juxtaposed with the surrounding old growth forest makes for an unusual sight and a fascinating place to explore for the entire family.
STOP 15: Whistler Mountain
Getting There:
Upon reaching Whistler, turn off Highway 99 at the Village Gate Boulevard exit.  Turn left at Blackcomb Way and immediately turn right to enter the parking area.  Walking through the village you will see the Whistler Village gondola.  Take this gondola to the top of the mountain.  
The gondola ride will culminate at the Roundhouse Lodge at 1850 metres elevation.  Walk through the lodge to the patio deck on the north side of the building and you will experience breathtaking 180-degree sweeping views across Whistler Village, the valley north towards Pemberton and the surrounding peaks.  This is a great opportunity to point out to children the views of Fitzsimmons Creek and how it created valleys where a large plateau of mountain and rock once existed. There is also the famous Black Tusk in the distance, a towering horn-shaped rock.  This was once part of a mammoth volcano but the only visible part is the rock of the magma conduit.  
Once you have had your fill of the gorgeous scenery, take the chair or trail to the top of Whistler Mountain.  Alternatively, take the 4.4 kilometre Peak2Peak gondola and enjoy being suspended over Fitzsimmons Creak to Blackcomb Mountain for more awe-inspiring views.
No better views exist of the Coast Mountains than from the peaks of the Whistler-Blackcomb resort so go there and admire!  Spend the day exploring the alpine landscape peppered with charming mountaintop restaurants and numerous walking trails while discussing the topography of the land.
Read our Family Travel Guide To Whistler for more ideas
on what to do when you are there.
---
---
Final Thoughts
We hope you have enjoyed our Family Sea To Sky GeoTour From Vancouver.  This epic journey along the Sea To Sky corridor along Canada's west coast will bring you face to face with the living earth while gazing at some awe-inspiring vistas.  Not more than 70 kilometres below Vancouver, the oceanic plate is slowly moving eastward on a downward dive into a giant collision with the mantle.  This incredible but regular event is responsible for creating earthquakes, volcanoes and mountains in the region.  Learning about this and being so close to it is certain to amaze even the youngest of children.  If this doesn't get their imaginations going, we don't know what will!